Featured
Share online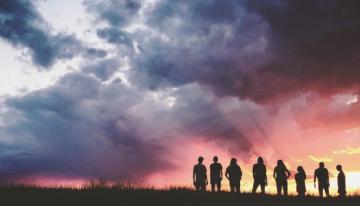 I recently returned from the International Leadership Association Conference with many of my School of Leadership Studies' (SoLS) colleagues. We heard a variety of different world leaders speak; to name a few: The Right Honourable Paul Martin (21st prime minister of Canada), Senator Anike Niganizi Murray Sinclair (Chief Commissioner, Truth and Reconciliation Commission of Canada), and The Right Honourable David Johnstone (Governor General of Canada, 2010 – 2017). As these leaders spoke about some of the issues we face as Canadians (and as Global citizens), I was struck by a comment from Paul Martin who said, "It is no longer enough for us just to be non-racist, we have to be anti-racist". Indeed! With all that is happening in the world each of us must take a stand. Equity, justice, and inclusion are important values for which we--as individuals and as a society—can stand strong.
In SoLS, we challenge our students to engage in action-oriented research to make a positive difference in the world. Action-oriented research comes in many forms and across various contexts in order to address a variety of critical leadership issues. Truth and reconciliation are critical issues in Canada today. The Truth and Reconciliation Commission of Canada (2015) has issued 94 calls to action; suggesting ways we as Canadians can step up. Over the years, Indigenous and non Indigenous MA Leadership alumni have stepped up to answer some of these calls.
Christine Webster (2019) in her thesis, Traversing culture and academy, sought "to enhance understanding between Indigenous cultural practices and academic worlds; and in particular, between SoLS, Indigenous Education and Student Services (IESS) at RRU, as well as the self-identified Indigenous students of RRU. This collaboration between culture and academy demonstrated a joint effort to enhance the shared learning and understanding of Indigenous ways of knowing and being in the academy" (p. 10). Christine's thesis was done in conjunction with the Indigenous Alumni Survey (IAS) project with co-investigators Drs. Kathy Bishop, Elizabeth Hartney and Wanda Krause and supported by Asma-na-hi Antoine, the Manager of Indigenous Education and Student Services (IESS) and The Heron People Elders' Circle at Royal Roads University. The IAS was funded by the Buttedahl Skene Fund. A final report provides valuable feedback about how to develop RRU programs considering Indigenous ways of knowing, being, and doing. Giving an accurate understanding of how Indigenous students experience RRU, the IAS identifies strengths, challenges and barriers. Recommendations are offered for new ways to support Indigenous students, as well as for enhancing the overall learning experience of Indigenous and non-Indigenous students through curriculum development and other resources. Furthermore, within Christine's thesis, guidance is offered for enhancing Indigenous ways of knowing, being, and doing within SoLS' specifically.
Through action-oriented research, we are able to truly dialogue and get into action on ways that we can each do our part to answer the call and move towards equity, justice, and inclusion of all.
References
Truth and Reconciliation Commission of Canada. (2015). Honouring the truth, reconciling for the future: Summary of the final report of the Truth and Reconciliation Commission of Canada. Retrieved from http://www.trc.ca/websites/trcinstitution/File/2015/Findings
/Exec_Summary_2015_05_31_web_o.pdf
Webster, C. (2019). Traversing Culture and Academy (M.A. Leadership Thesis). Royal Roads University (Canada), Victoria, B.C., Canada. Retrieved from https://viurrspace.ca/handle/10613/12811
Photo by Hudson Hintze on Unsplash
---- 
To find out more about our programs and dates for upcoming information session, visit the School of Leadership Studies website.
Make sure to stay connected with us on social media!
Facebook | LinkedIn | Twitter