Related program area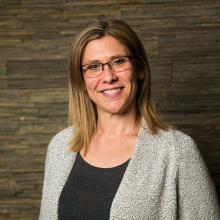 The entire experience was amazing.
"I'd realized that my work experience was limiting my career, and that if I wanted to advance professionally I would have to return to school. As an employee of Royal Roads University, I'd heard so many students rave about their transformative experiences, and so I decided to take the plunge into graduate studies.
The entire experience of the Graduate Certificate in Leadership program was amazing. The faculty are exceptional, the two-week residency was a game-changer and the opportunity to interact with leaders from different sectors broadened my perspectives and deepened my learning.
I can't imagine performing my current role without the learning I received from Royal Roads University. I'm confident in who I am as a leader, what I value in a workplace and my ability to make strategic decisions. I don't think a day goes by that the skills I learned in the leadership program don't influence how I do my job.
I had no idea how much the program would transform how I see the world. I now have a whole new perspective – not only at work, but in life as well."