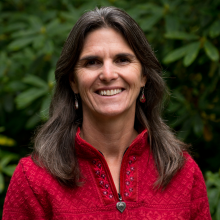 Liza Ireland is associate faculty in the School of Environment and Sustainability and in the School of Education and Technology. She was acting program head of the MA in Environmental Education and Communication from 2012-2014. With a PhD in education for sustainability, her focus is on developing systems thinking in education and a sustainability perspective that incorporates social, economic and environmental imperatives. Her research focuses on worldviews and influential conceptual metaphors and how these affect communication and efforts to develop a sustainable society. Ireland is currently developing an environmental education framework with the Alberta Council of Environmental Educators to support the development of social, cultural, global and environmental responsibility in the new Alberta K-12 curriculum.
Experience
After lecturing in education for sustainability at the University of New Brunswick, in Kazakhstan and at the Teacher Training College in Bhutan, she founded an independent elementary school based on sustainability and systemic thinking in Scotland. Ireland is a director of Changing Climates Educational Society and, as a consultant, has given workshops at United Nations Children and Youth Conferences on the Environment in Norway, South Korea, Japan and Indonesia. In 2008, she co-authored the North American edition of Sense & Sustainability and was the keynote speaker at the World Changing Careers symposium on redesigning education for a sustainable future in 2010.
Education
n.d.
PhD in education for sustainability
University of Stirling, Scotland
n.d.
MEd in curriculum and instruction and environmental education
University of New Brunswick
n.d.
BEd
University of New Brunswick
n.d.
Bachelor of environmental studies
University of Waterloo