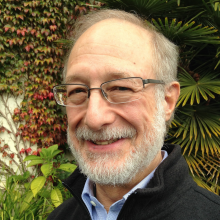 David P. Bernard is an adjunct professor, associate faculty member and instructor with expertise in systems ecology, natural resource management and sustainability science. Over the past two decades, much of his work has focused on understanding and incorporating tools from the field of decision science into environmental policy deliberations. Bernard served as associate director of the U.S. Institute for Environmental Conflict Resolution and as staff scientist in the Environmental Reporting program at The H. John Heinz III Center for Science, Economics and the Environment in Washington, D.C. There, he contributed to the book, The State of the Nation's Ecosystems: 2008.  More recently, at the U.S. Environmental Protection Agency, Bernard served as a senior advisor in the Office of Research and Development where he helped lead a team of 200 scientists in the Ecosystem Services Research Program. Earlier in his career, he served as a systems ecologist on over 100 regional-scale projects in Southeast Asia, Western Europe, and throughout North, Central and South America. Bernard was invited by the Director of the Earth Council in Costa Rica to serve as organizer and leader of the facilitation team conducting the Rio-based, five-year review of global progress under the United Nation's Agenda 21 program.
Experience
Bernard has over thirty years' experience in the fields of environmental science, policy, planning and education and has held senior-level positions in the academic, non-profit, business and government sectors. He has authored over 100 publications, logged more than 2,000 hours facilitating technical workshops, scientific meetings, and multi-stakeholder processes and taught graduate-level courses including Ecosystem Science, Sustainability and Systems Modeling. His consulting practice, Wicked Problems Tamed, focuses on institutional and environmental challenges related to managing large, regional-scale environmental systems and associated conflicts. In his youth, Bernard wrote a weekly column in the local Maine newspaper on environmental issues and worked as a D.J. at the AM radio station where he surreptitiously recorded and aired PSAs concerning environmental conservation.
Education
1985
Master of Science in Ecology
University of British Columbia
1976
Bachelor of Science in Zoology (Honours)
University of Alberta
Awards
1997
Earth Council Silver Medal
for leadership during RIO+5, a review of global progress under the United Nations' Agenda 21 progra
n.d.
Extraordinary Contributions to The State of the Nations Ecosystems Project
The Heinz Center