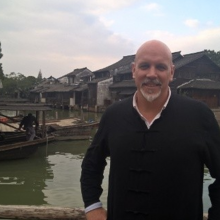 Dr. D'Arcy Dornan is an associate faculty with the School of Tourism and Hospitality Management at Royal Roads University. He has worked over the past few years giving courses online in the graduate program as well as teaching and playing a pivotal role with Royal Roads' partner in China, the Jinhua Polytechnic in Zhejiang Province. Dornan is also a certified trainer with the Global Sustainable Tourism Council (GSTC) and co-organized the first online global GSTC Sustainable Tourism Training course in 2018. More recently, he started working as the international recruitment manager with Loyalist College in Ontario, Canada.
Experience
Dornan has worked as professor, researcher, and program director with institutions of higher education in Brasil, China, France, the United States and Canada. He also manages and develops new business opportunities and is involved in international student recruitment in countries around the world. He has several publications, and has presented internationally. In his work with the GSTC, he worked successfully with NGO and the private and public sectors, and was instrumental in the development of a new online graduate program with Brasil's Senac University, which included the participation of international partners, and the creation of online GSTC course in Portuguese. Dornan has also worked in the tourism, hospitality and other industries in  operations, training, development and management.
Education
2004
PhD in Geography with a focus on sustainable tourism development
University of California
1997
Master's degree
University of Paris I: Panthéon-Sorbonne
n.d.
Bachelor's degree
San Francisco State University, California and the University of Bristol, UK
Awards
2018
Teaching Excellence Award
Jinhua Polytechnic