When the pandemic hit, Palahicky was ready
Topics
Share online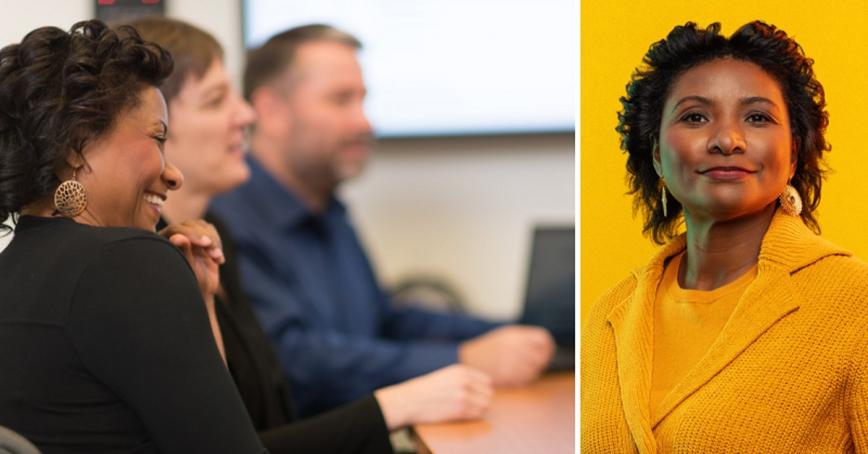 If anybody was ready for COVID-19, it was Sophia Palahicky.
The associate director of Royal Roads University's Centre for Teaching and Educational Technologies — and an online instructor — she was the right person in the right place at the right time.
In fact, if you were to review her career, you would be not far off the mark in thinking that her entire academic and working life prepared her for the pandemic.
A native of the Bahamas who grew up in the Caribbean, Palahicky first came to Canada in 1994, when she started her undergraduate education towards a Bachelor of Arts in Sociology at Nova Scotia's Acadia University. While living in BC, she went on to study fully online at Alberta's Athabasca University, where she earned a Master of Education, then a Doctor of Education, in distance ed.
Before moving with her family to Victoria more than six years ago and starting at Royal Roads, Palahicky was an instructional designer with the University of Manitoba's online and distance education unit, and oversaw similar areas for kindergarten to Grade 12 students under Manitoba Education and Advanced Learning.
Thus, when COVID-19 hit last spring and parents, teachers and school administrators across Canada scrambled to ramp up remote learning, Palahicky and Royal Roads were ready.
"My initial reaction was, actually, I don't want to react to this, I want to respond to this," says Palahicky, who is among the students and staff featured in Royal Roads' Boldly Different  marketing campaign.
Her team increased its number of channels for support requests tenfold and tripled intakes of training for faculty.
"Time was our challenge. That was our biggest hurdle."
While every course at the university, whether designed for in-person, online or blended learning, had a web space, not all were equipped to immediately convert to a full online model.
But Palahicky and the 30-strong educational technologies team quickly ramped up their efforts to provide supports to Royal Roads' almost 500 faculty and associate faculty members, with extra attention paid to purveyors of programs that would usually be face-to-face.
For such courses, an instructor would have had a bare bones website containing basic information and, perhaps, a few PowerPoint slides. Palahicky and company worked to flesh out those sites and determine how best to handle learning both for those "attending" class in real time and those doing so on their own schedule. Instructional designers would help profs plan lessons and assessments, while learning technologists would train them in the use of new online tools.
"You shouldn't have to be an expert in everything if you have the infrastructure to support online programming," she says. "That's one of the fantastic things about our model: We have a team approach to this and we recognize that everyone on the team has an area of expertise."
And while Royal Roads' preparation and response were successful — so much so that Palahicky says other universities have reached out to learn how CTET has handled matters — she and her colleagues aren't resting; rather, they're pondering the lessons learned over the last 10 months. One such lesson is that instructors who taught primarily in-person pre-pandemic can't just revert to old practices.
"We have to ensure that all of our faculty, regardless of what program they teach in, whether it's online, on campus or whatever, they all need to be engaging in our services so that they're prepared for the next era of uncertainty."
In early 2022, Sophia accepted a new challenge with the Ministry of Education, moving into the role of online learning and educational resources executive director.
This is one of a series of articles on the people featured in Royal Roads University's Boldly Different campaign. If you want to take your career further, earn a new credential, experience personal growth – or all three – with a boldly different education, contact us to learn more or to speak with an advisor.