Wanted: Climate action leaders
Topics
Featured
Share online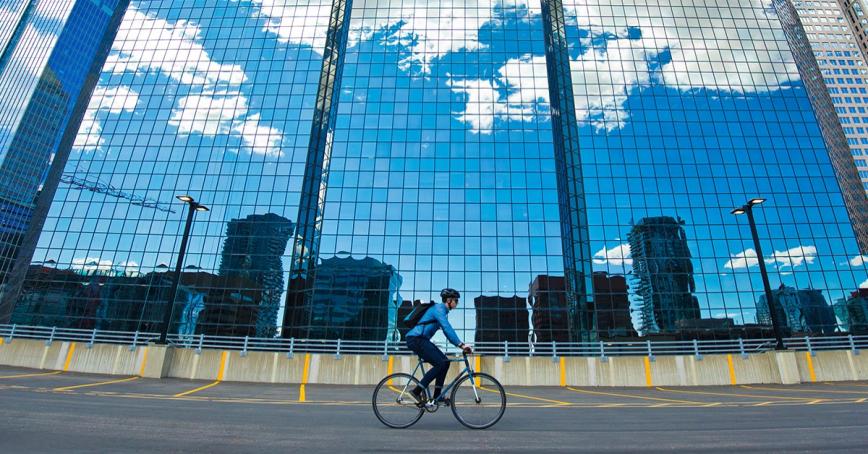 Battling the climate crisis requires change and change requires leadership.
That's why Royal Roads University has launched the Master of Arts in Climate Action Leadership (MACAL) program, which was approved earlier in June by Anne Kang, British Columbia's Minister of Advanced Education and Skills Training.
"The Province's CleanBC Plan puts B.C. on the path to a cleaner, better future. Creating the global solutions we need for the world's changing climate, means that we need the next generation of innovators, creative thinkers, and change-makers to lead us into the future," says Anne Kang, Minister of Advanced Education and Skills Training. "I'm so pleased that the first cohort of Royal Roads University's Climate Action Leadership program will embody the change we wish to see in the world for a cleaner planet."
A two-year, 36-credit degree with a built-in 18-credit graduate certificate, the program is geared for people who want to create the social, political, environmental and economic changes needed to lead Canada towards a low-carbon, resilient future.
With an emphasis on the intersection of climate science, social science, justice and change leadership, students will be challenged to look beyond the classroom, exploring real-world problems, and then, generating real-world solutions.
The program launched on May 31 with its inaugural cohort of 17 students from a range of backgrounds. The students hold previous degrees in geography, sustainability agriculture, environmental studies, music therapy, social sciences, and political science. These first cohort members also work in a range of industries and sectors, including sustainability management, politics, business, health, consulting, entrepreneurship, marketing, activism, public service, and Indigenous government.
"This is for changemakers, people who want to change things in organizations and society and government, private and public sector in ways that bring us closer to building a world that is equitable and just and climate resilient," says MACAL program head Prof. Robin Cox. "This program is about preparing working professionals from all sectors to not only drive immediate changes but to have a multiplier effect that triggers the kind of exponential action we need if we are going to survive this crisis."
For Royal Roads, the time was right to launch the program, says President and Vice-Chancellor Philip Steenkamp.
"As humanity faces the present and future consequences of the climate crisis, we at Royal Roads believe this is a supremely timely — and essential — program," says Steenkamp. "There are deep interconnections between our need to act on climate change and on issues of equity and social justice worldwide. We want to educate and create leaders who can help face these global challenges."
In addition, Steenkamp says, "The MACAL program fits perfectly with Royal Roads' own deep commitment to sustainability."
The program offers a flexible structure to help students design the learning journey that best fits their needs and interests, says Cox. Blending online learning with short, in-person learning intensives, MACAL combines the technical understanding of climate science and tools with the learning and leadership skills and practices students need to shift behaviour, culture and policy.
Key areas to be addressed include: climate science, climate adaptation and resilience; systems thinking; Indigenous knowledge and worldviews; action research; adaptive leadership; climate communication; and social innovation.
"Climate action requires collaboration and diversity of perspectives and knowledges, and the program is designed to attract diverse student cohorts," Cox says. "This richness of cohorts and the open learning environment provide opportunities for students to learn from and share their expertise with each other, with subject matter experts, and with other climate action leaders.
"And the open-learning orientation of the program means that students are developing their own profiles as climate action leaders and having real-world impacts as they learn."
During the first year of the MACAL program, students participate in a 10-day learning intensive that introduces them to core concepts and a design thinking climate change challenge. For the second year, students select from two options:
the scholar-practitioner track, in which participants will produce an applied action-research project;

or the practitioner-scholar track, in which students will co-design a personalized learning portfolio, tailored both to their interests and career goals, which may include internships, directed studies, consulting projects, electives and less traditional experiential learning activities.
The latter approach will allow each student to "do a deep dive and customize their learning," says Cox.
As well, the second year will conclude with a shorter, in-person, conference-style learning intensive designed to bring together students, faculty, subject-matter experts and community members together in dialogue, complete with keynote speakers and presentations.
Want to lead change towards a resilient future? Read more about Royal Roads' Master of Arts in Climate Action Leadership.
MACAL program head Prof. Robin Cox hosts a series of webinars on Climate Action Leadership. The most recent, What does it take to be a climate action leader?, explored what it means to be a climate action leader in the context of this urgent and escalating crisis.