Victoria emergency response internship a win-win for city, RRU student
Topics
Featured
Share online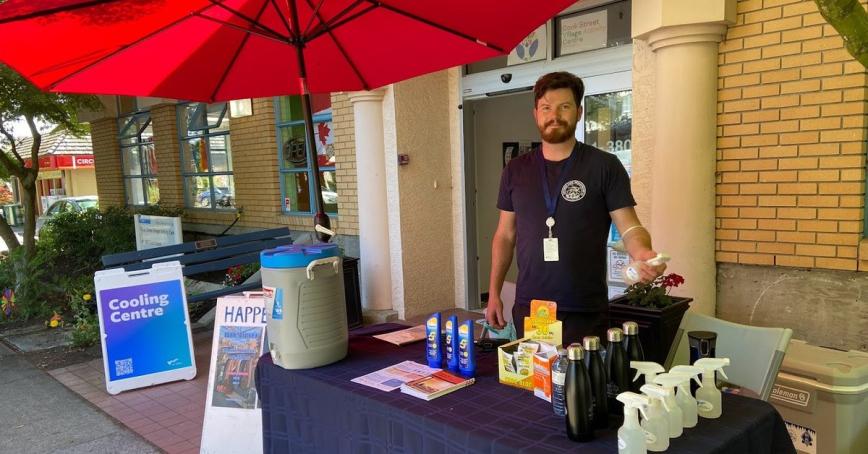 For many students, internships are an introduction to the working world during which they gather invaluable experience in a professional setting.
But in the best internships, both the student and employer benefit from the collaboration — the former learning on the job, the latter gaining insights from the education, skills and experience of the intern.
That was certainly the case when Daniel Gray, a Royal Roads University Master of Arts in Disaster and Emergency Management (MADEM) student, completed an internship last summer with the City of Victoria under the supervision of Tanya Seal-Jones, the municipality's emergency program coordinator.
RRU's Career Learning and Development team has named City of Victoria the university's Internship Employer of the year for 2022.
Gray, who grew up on the Sunshine Coast, brought a decade of work experience to his internship including time as a resident supervisor in care homes and doing health research on Vancouver's Downtown Eastside. It was his experience with vulnerable people in Vancouver that especially informed his work during his internship at the City of Victoria, which came about after having previously volunteered with the city's emergency support services program.
During his internship, Gray prepared risk communications literature for the city web site along with pamphlets and other materials about dealing with extreme heat. When a heat wave struck Vancouver Island last summer, it marked the first activation of the City of Victoria's response plan and, with Seal-Jones out sick with COVID, it was up to her deputy and Gray to set up the program, including cooling centres and misting stations. He also conducted Geographic Information Systems (GIS) heatwave vulnerability mapping of the city and contributed to Victoria's Hazard Risk and Vulnerability Assessment.
Gray says he's grateful for the experience, which made his RRU coursework real. 
"For a new professional in the field it was exciting to put my name on something that would be a formal assessment of that kind," Gray says."
 "I've had work experiences before where they stick you in a corner and they give you some kind of make-work project. But this was really impactful."
He also lauds Seal-Jones' leadership, saying she was key to his positive experience.
"She wanted to get the best out of you that she could," he says. "She took the time up front to understand what I could contribute, what my unique skillset was and then to match that to the work that needed to be done.
"She was just an incredible mentor… and she makes you feel like part of the team."
Seal-Jones, herself a Royal Roads MADEM graduate, has had experience with several RRU student interns." Recognizing the value of what the students can bring as well as what we can give them, I've always tried to make it work for us to have an intern," she says.
"With how busy we are, there is that reluctance from some people because taking on a student can be viewed as extra work for the employer. But I've found with the students that we've had and their areas of expertise, we were able to just give them the projects and they were able to hit the ground running without out a lot of supervision… but still able to bring value to them and to us."
Seal-Jones says during Gray's internship, not only did he provide hands-on support, creating heat response kits to hand out to people in the community, his heatwave vulnerability mapping proved valuable, identifying specific areas and populations that are in greatest danger during a period of hot weather.
The internship added to Gray's resume and he's now working with the provincial emergency coordination centre. For both experiences, he credits his time at RRU (he finished the program in March), especially instructors' abilities to pivot their teaching material to encompass current events.
Before both school and the internship, Gray says, he had doubts about the applicability of his previous experience but the City of Victoria internship helped give him confidence to apply his skills to future roles helping people.
We always want to hear stories about the people, programs and places that are the Royal Roads experience. Share yours via the RRU Story Exchange and it could be featured on our web site and social media.