Using virtual reality to share the reality of poverty
Topics
Featured
Share online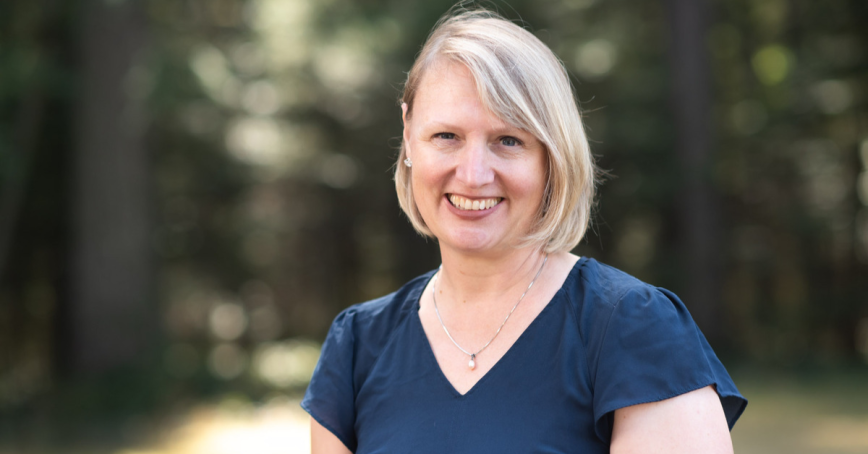 What would it take for a person to care about someone in need?
What would it take for them to do something about it?
A Royal Roads University professor is hoping one answer to those questions can be found by using virtual reality (VR) to promote both empathy and action.
Tracy Smith-Carrier, associate professor in RRU's School of Humanitarian Studies and Canada Research Chair in Advancing the UN Sustainable Development Goals, was recently awarded a $63,000 Social Sciences and Humanities Research Council Insight Development Grant to conduct initial research on a VR poverty simulation.
The work aims to address a critical, ongoing problem as income inequality increases around the world and food, oil and housing prices soar.
A former elementary and middle school teacher in Ontario, where she went on to teach in the School of Social Work at King's University College, Smith-Carrier has previously worked on a face-to-face poverty simulation and "we did notice that it had an ability to shift people's beliefs."
With the VR project, she and her participatory action research team of 13 — including peer research assistants who experience poverty — will do interviews with people in extreme poverty. With the help of an artistic team, the researchers will adapt and anonymize the stories to develop a beta version of a VR simulation. They will then test the beta with research participants and use their feedback to modify and improve it.
There's a real focus on policymakers because I think there's a real need to develop empathy for people living in poverty, and the way to do that is through experiential learning.
The goal is to create a product that can be used to inform and spur action among government officials who have the ability to help people experiencing poverty.
"There's a real focus on policymakers," Smith-Carrier says, "because I think there's a real need to develop empathy for people living in poverty, and the way to do that is through experiential learning.
"A lot of people just don't understand the reasons why people live in poverty, people's experiences in poverty. So, the purpose is really to develop that empathy and to develop an understanding of the systemic roots of poverty."
Indeed, she notes that many people who have lived in relative privilege have ingrained in their thinking the idea that the only reason people experience poverty is that they have done something wrong — that they somehow "deserve" it — all the while, ignoring the challenges faced by those who've grown up poor or experienced substantial trauma.
"There are people who have lived through a lot of horrors that the 'middle class' have never had to experience," Smith-Carrier says. "And that privilege blinds them from understanding what it's like for other folks."
Using VR, then, the idea is to put decision-makers in the shoes of people experiencing poverty to face the decisions the poor must make every day to survive, helping to strip away the stereotypes and judgment they may have.
"Putting out research, putting out fact sheets and statistics, and even narratives and stories, isn't cutting it because we don't see the political will to do what needs to be done."
What needs to be done might include housing-first help for the unhoused or a universally accessible basic income program, similar to government income supports for seniors, she says, noting money spent to prevent problems yields savings in money not spent to fix problems.
"The complexity has little to do with the solution and more to do with the willingness to actually implement the solution. That's the complexity: How do we get the policymakers to have the political will to take steps toward positive change?"
---
We always want to hear stories about the people, programs and places that are the Royal Roads experience. Share yours via the RRU Story Exchange and it could be featured on our web site and social media.