Turning to Indigenous Knowledge in creating Hep C Awareness
Topics
Featured
Share online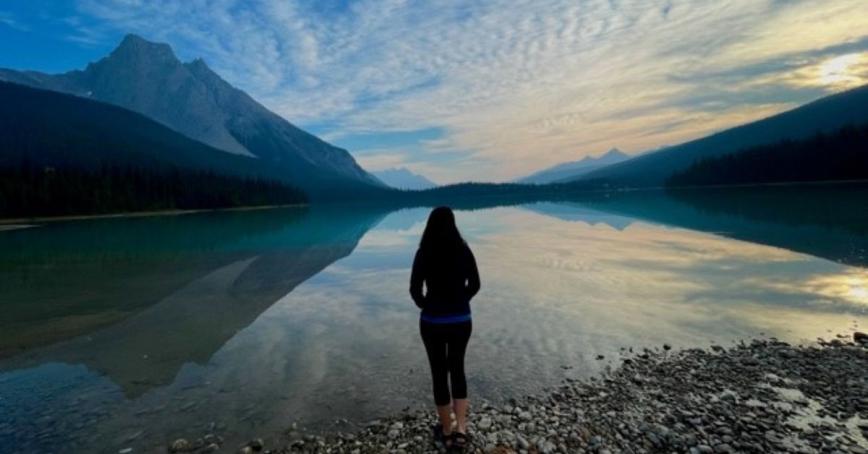 When the Canadian Institute for Health Research funded Royal Roads Doctor of Social Sciences student Kate Dunn with a Doctoral Research Award for First Nations Métis and/or Inuit Health in Canada, she knew that her approach would be different.  
In the spring of 2021, Dunn set out to spend just over a year with Indigenous Elders and Knowledge Keepers in Alberta to build relationships and begin learning how to connect healthcare education with culture.  
Originally from Mississauga First Nation in Ontario, Dunn lived all over North America growing up. She attended nursing school in the U.S. before working in remote communities in Alaska. From there she did public health work in Seattle area before returning to Canada in 2018, where she began to focus on Hepatitis C awareness. It was clear to Dunn that there was a need to adapt how we communicate about treatment, to dispel stigma and raise awareness that a cure is available.  
Dunn's research is built on a foundation of respect, reciprocity and relationships created with "heart connection."  
When it comes to communicating about Hep C treatment, Dunn says: "We already have the 'head approach' or the medical approach. What we're missing is the heart connection. How do we relate this education with culture so Indigenous community members can better connect with what they're hearing?"  
To investigate the impact of culturally relevant healthcare communication, she worked closely with Indigenous Elders and Knowledge Keepers in Treaty 6, 7 and 8 in what is now Alberta, to reflectively listen and learn perspectives on liver wellness. The goal of the research was to co-create a DocuStory video intended for screening with Indigenous communities.  
The product of this co-creation is a 23-minute video including land-based visuals, traditional storytelling perspectives, Indigenous medical professionals explaining the facts about the virus and two young adults sharing their lived experience. The video ends with accessible calls to action. Free screening for Hep C is often offered on site at viewings and practitioners are there to answer questions or discuss the information from the film.  
The DocuStory has been screened in multiple communities in Alberta and Dunn says the impact is already profound, with community members reporting they can understand the importance of liver wellness and screening for hepatitis, resulting in many following through with the screening test. 
 "There's a lot more engagement and people feel they can ask questions," she says. "It's being screened at high schools and students are bringing the message home to their parents and encouraging them to get screened. So, it's reaching Elders, adults and youth."  
She acknowledges that a grant from the Canadian Institutes of Health Research was instrumental in making the video and supporting its roll-out to communities.  
This impactful research is gaining momentum. Dunn is partnering with the Canadian Liver Foundation to host the DocuStory on their website. She's also meeting with Indigenous Services Canada to expand awareness of the virus and the tools available to cure hepatitis C to Indigenous communities across Alberta, and perhaps one day, to Indigenous communities across the country. 
---
We always want to hear stories about the people, programs and places that are the Royal Roads experience. Share yours via the RRU Story Exchange and it could be featured on our web site and social media.