Startup by triple RRU grad removing barriers for period equity
Topics
Featured
Share online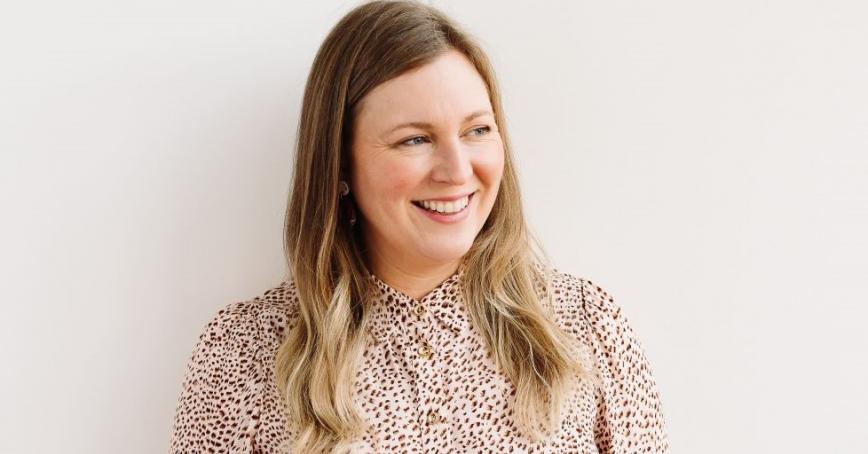 A three-time Royal Roads University graduate is being recognized for the efforts of a startup company she co-founded to fight for environmental sustainability and period equity.
Linda Biggs, who first earned a Bachelor of Commerce  in Entrepreneurial Management from Royal Roads in 2005, was named as one of Douglas Magazine's 2021 "10 to Watch," an award sponsored by the university that celebrates new businesses. She also has a Graduate Certificate in Project Management from RRU, and in 2019 earned a Graduate Certificate in Executive Coaching.
It was after the latter she met would-be Joni co-founder Jayesh Vekariya, who has a Master of Science in Pharmacology and a Master of Business Administration from the University of Victoria, and who shared some staggering statistics.
"One in three Canadians under the age of 25 are unable to afford period care," Biggs says. Her business partner, Vekariya, who is from India, was baffled that Canada, a wealthy country, would have period poverty.
"This is something that India is dealing with and he didn't expect it here," Biggs says.
The issue in Canada is even more serious when considering the statistics came from a small study that didn't factor in those who don't have internet access or include Indigenous or LGBTQ2+ communities.
So together, Biggs and Vekariya started Joni. It was a natural fit.
"I'm a consumer and I didn't resonate with any period care brand out there" says Biggs, a mother of two daughters, soon to be 12 and 10 years old.
"Throughout my professional career, I needed to align the work I do with my values," she says. "I'm motivated when I'm able to make a positive impact and this was something that I felt we had an opportunity to really make an impact in."
Growing a business
Vekariya had an idea to start a company producing period care products and was introduced to Biggs through a mutual friend because of her business and leadership experience. She had held leadership positions at tech startups and had recently transitioned out of her role as COO at Abeego, a beeswax food wrap company on Vancouver Island, and was looking for a new challenge.
She was familiar with building teams, establishing distribution networks, marketing consumer packaged goods, as well as the e-commerce space. Biggs also personally understood how expensive period care can be.
"My mother is an immigrant from Mexico, and she raised myself and my two sisters and there wasn't a lot to go around sometimes. I remember food banks as a child and as, as my sisters and I grew older, we didn't always have enough period care to go around".
She would then ask friends for an extra pad or tampon or wear one the whole day instead of changing it regularly.
"I didn't know about period equity," she says. And while she had never heard the term "period poverty" she was well aware of the lack of period products in her home.
"There are so many people in this country who use socks or cardboard or make their own makeshift pads because they can't afford period care," Biggs says.
"And for a developed country like Canada, it's just mind-boggling. Many people miss work or school because of the lack of access. People are not expected to bring toilet paper with them when they go to the bathroom. Menstrual care should be given the same consideration because it impacts people's ability to work, people's ability to go to school, and to live a dignified life."
Stigma and shame
Biggs says much stigma and shame remain when it comes to menstruation, citing the use of discreet packing and blue water in industry marketing.
"The reason why big companies come out with discreet wrappers is because there's still this idea of shame. It's not something that people openly talk about," she adds.
Biggs wants to bring the conversation of period care and menstruation into the open. That's how change starts, she says. "The world has changed, but the industry hasn't changed with it."
Biggs and Vekariya are starting that change with a more environmentally friendly pad. Joni pads are made from a bamboo and cornstarch base, and they're biodegradable.
"Traditional plastic pads take over 300 years to break down. If you think about it, the first plastic pad ever made it still breaking down in the landfill," Biggs says.
"We wanted to provide a more innovative and sustainable reusable product - one that breaks down within 12 months with a certified compostable wrapper. Many people can't use reusable options for a variety of reasons and bodily agency - choosing what works best for you is important. So, the impact to people in Canada who are unable to use reusable products, to be empowered to have a more sustainable option is huge, for them and for the planet."
Giving back
Joni is also giving back, donating a pad for each one sold at getjoni.com. Since launching its e-commerce site in March 2020, Joni has donated over 55,000 pads to non-profit partners across Canada. Accessibility is important to Biggs.
"Our one-for-one model focuses on giving back to Canadian communities," Biggs says. "So, what I paid for organic pads here, say $7, could go for $35 in a northern community because of the logistical costs of getting those products there. And that's a barrier to a lot of folks."
To improve accessibility, Joni provides free shipping with no minimum order. Biggs says the pandemic really pushed e-commerce forward.
"Before the pandemic, someone would have probably hesitated and said, 'Well, why would I ever buy period care online?' But now, it's more, 'Where can I buy these kinds of products online?'"