Speaking the same language on climate change
Topics
Featured
Share online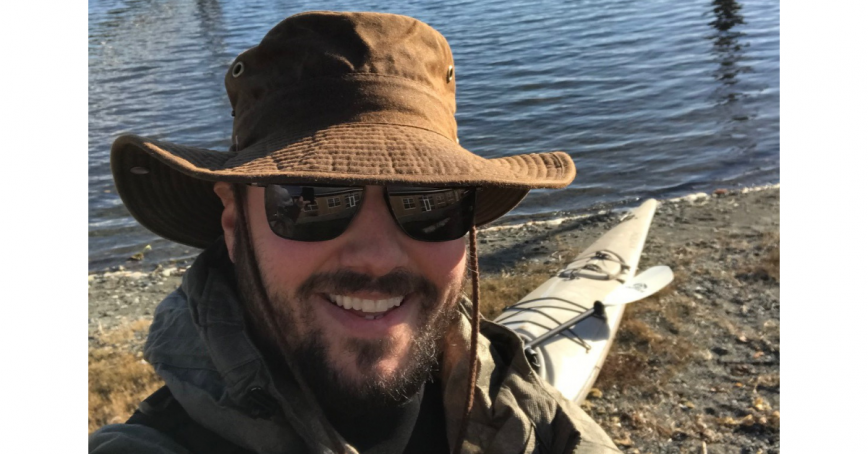 So many people are talking about climate change, but Leighton Gall, a recent Métis graduate from the Graduate Certificate in Science and Policy of Climate Change at Royal Roads, says we need to change how we talk about climate policy.
He has contributed to a published paper titled Waves of Change, commissioned by the Institute of Climate Choices, that highlights the participation of Indigenous Canadians in renewables technology and clean energy leadership.
What informs his approach to science communication is the gaps he's noticed in the way scientists talk about climate and how that can have downstream impacts on already marginalized populations.
"They're always really phenomenal at explaining how many parts per million of carbon are in the atmosphere and the relationships between geospheres and cryospheres," he reflects, "but not really great at explaining the relationship when we go to save the environment, how a single mother is able to afford the changes that you want to make, and if she's going to fall behind, along with other people that possibly are low income."
Gall is also a student in Royal Roads' Masters of Global Management program and he's bringing both components of his graduate studies to help bridge that gap.
"I'm trying to take my research, the business side and the climate side, and make it a little bit more simple for people to understand, because I think that's really how we're going to get the buy-in. Let's make it more accessible and make sure nobody's getting left behind, and everybody understands," he urges.
This approach to science communication is particularly important when considering the requirements for free, prior and informed consent for Nations impacted by energy projects. Gall talks about how in the past, Indigenous communities were disadvantaged at the table with industry due to an education gap, a lack of transparency on the part of utility companies and receiving information from a colonial worldview.
"Part of my research was to explain these concepts from an Indigenous perspective. Sometimes we get caught up as researchers explaining things from a Western perspective. Indigenous people are natural storytellers and that's how they receive information," he explains, clarifying why impacts need to be described in more than datasets, but also in the form of a narrative about how things could change. 
Change management is something Gall learned from his studies at Royal Roads and it's paying off when he thinks about his new job as the manager of sustainable transportation at Indigenous Clean Energy, where he's working on a project to get electric vehicle (EV) chargers into rural Indigenous communities.
He sees this project as important because more people are moving to electric with the skyrocketing price of fuel, but rural communities that don't have the charging infrastructure are being left behind. That leaves these communities more vulnerable to even larger price increases as demand for fuel wanes. As they will be the last communities dependent on gas, that's an expensive proposition.
Given the underrepresentation of Indigenous researchers in the area of climate, Gall is motivated to contribute to his field as much as possible and sees it as a matter of economic justice, sharing, "I would like to keep researching in these areas and start building up that knowledge base, that way people can make better decisions. Because sometimes these bad decisions have kept indigenous communities poor."
Gall sees now as the time for change. "There's a quote out there that we can't solve the problems we made with the same type of thinking that created them. We can't just continue down a path of colonial relationships, thinking that the same system is going to keep working."
Beyond quality science communication, an intersectional perspective, and a departure from colonial ways of being, Gall sees mentorship as key for emerging Indigenous climate researchers. "It's really important to have mentorship, and somebody that can point out where the valuable things are so we're not spending a lot of time on a path that's going to lead to nowhere… and pointing out the things that have value, the things that will make us and things that will hurt us," he says.
Through an Indigenous lens, Leighton Gall is broadening the scope of how we talk about climate change, how we collaborate on it and how we heal from the damage of inequitable relationships between Indigenous communities and industry through a more empowering future.