RRU teams up with Climate Risk Institute for slate of critical courses
Topics
Featured
Share online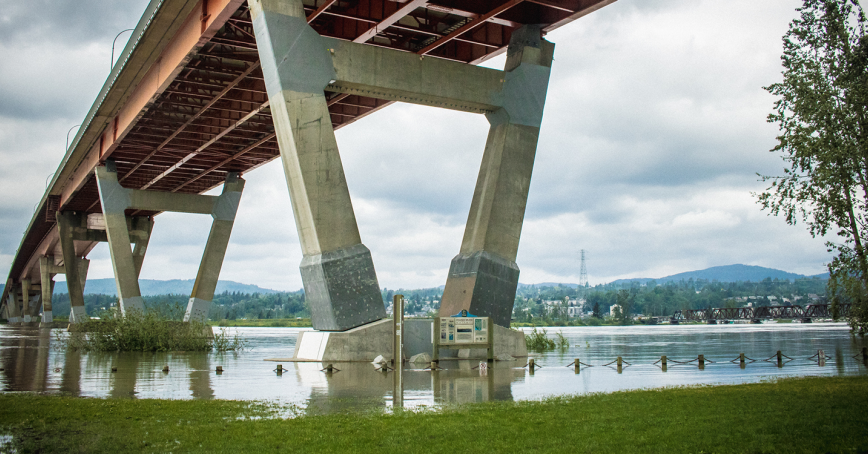 As fears about climate change and its myriad impacts have become reality for people around the world, climate-related skills have gone from "nice to have" to "need to have" for a variety of professions — from engineers and architects to city planners and business leaders. 
It was that need that prompted a vital new partnership between Royal Roads University and the Climate Risk Institute (CRI), a non-profit organization that delivers services and training around climate risk assessment, adaptation planning and adaptation policy. 
Royal Roads and CRI are teaming up to deliver a slate of online courses connected to climate action. This includes courses on Climate Change and Infrastructure Risk Assessment and the PIEVC Protocol, a process for determining the likelihood and severity of future climate events; Climate Smart Policy and Procurement; Climate Law; and Adaptation Training for Planners. Other courses rolling out soon for infrastructure practitioners include Management of Climate Risk, Asset Management and Climate Resilience, and Applied Climate Science. Courses feature instructors, guest speakers and facilitators from across the country. 
"The community of people working on climate adaptation and climate risk has been fairly small, relatively speaking," explains Paul Cobb, CRI's manager of training services. "But it's growing, and it's growing quickly. 
"We wanted to collaborate with Royal Roads to make sure that our training programs were of the highest possible quality, and available to as many people as possible. And we wanted to make it easy for people to find those training programs. 
"The Climate Risk Institute has years of experience doing this kind of work," he adds. "CRI and its associates and instructors are adaptation and resilience experts, we're climate risk experts, but the partnership with Royal Roads gave us an opportunity to work with experts in e-learning and online course design."  
Zoë MacLeod, RRU's associate vice-president, Professional and Continuing Studies, says she's excited Royal Roads has connected with such an outstanding partner to create action and progress in the climate change learning landscape. She says it's a great fit for the university, which already offers climate related courses and programs and a Climate Adaptation Micro-credential as well as a Master of Arts in Climate Action Leadership. 
"Addressing climate change is integral to Royal Roads' mission," MacLeod says. "We're focused on climate action, leadership and learning, so teaming up with the Climate Risk Institute fits perfectly with our mission.  
"Our goal is to set students up for success when it comes to working in climate action and adaptation fields," she says. "Most of our students take what they're learning in the classroom and bring it back to their own fields of expertise, so it's interesting to see the different ways that our students are bringing this knowledge into their communities. 
"We're so pleased that we were able to pair our expertise in online education with CRI's experience and roster of specialists to create one-of-a-kind courses for working professionals looking to upskill or retrain," she adds.  
Those specialists include course facilitators who work with subject matter experts from both academia and the private sector, Cobb says.  
"We are trying to make the most of our respective networks and expertise to scale up this training," he explains. "They'll have an accessible, well-designed course so that they can acquire that knowledge and apply those skills to their practice. They can even work towards acquiring the Infrastructure Resilience Professional credential." 
The recent National Adaptation Strategy established a target that would see 75 per cent of professionals in fields such as engineering, planning and architecture with training and skills to integrate climate resilience in their work. Cobb says CRI believes the partnership with RRU can help Canada meet federal guidelines around adaptation strategies and training. And it is working toward that by collaborating with professional groups such as Engineers Canada, an umbrella organization for the country's provincial and territorial regulators. 
Cobb adds: "Those professional sectors — architects, planners, engineers — are really key to building the infrastructure and the systems that protect our communities and protect the wellbeing of people in our communities." 
---
Learn how you can connect your career to climate action.  
We always want to hear stories about the people, programs and places that are the Royal Roads experience. Share yours via the RRU Story Exchange and it could be featured on our web site and social media.