RRU MBA student flies to the rescue of BC communities
Topics
Featured
Share online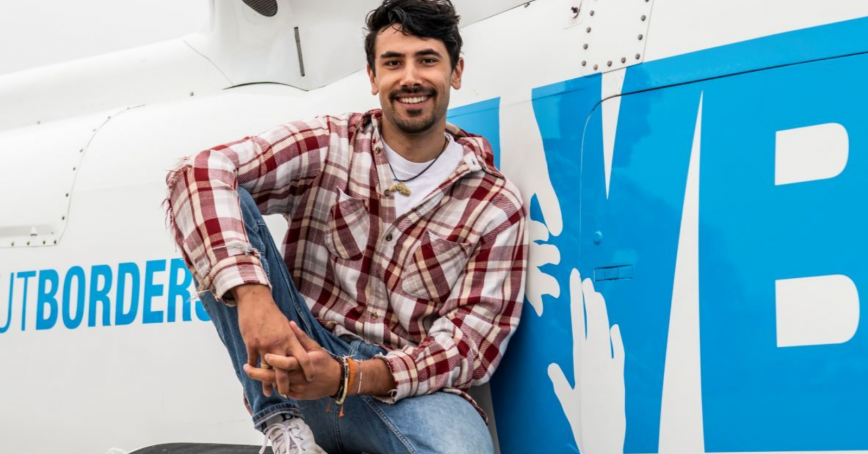 On the first flight of his newly registered charity, Helicopters Without Borders, Owen McClung-Sitnam delivered 250 doses of COVID-19 vaccines in a Sikorsky S-76 helicopter to three isolated First Nations communities near Prince Rupert, BC.
Helicopters Without Borders (HWB), celebrated its first anniversary on January 12, 2022. In its inaugural year, HWB travelled 18,215 kilometres – three times the length of Canada, transporting close to 4,000 doses of COVID-19 vaccine to remote and rural areas in BC. In addition, the charity delivered food and supplies to people cut off by wildfire, flooding and mudslides as well as medications, COVID-19 tests, equipment, school supplies and winter clothing to those in need.
"I never thought Helicopters Without Borders would be in this position, going at this pace," says McClung-Sitnam, CEO of the charity and a student in the Master of Business Administration (MBA) in Executive Management program at Royal Roads.
Staying in school
It was a hectic year trying to juggle his studies and the charity. McClung-Sitnam considered dropping out of school, but he was able to continue his studies, thanks to RRU and his instructors.
"They really supported me, and they mentored me," says McClung-Sitnam, adding assignment extensions also helped.
He admits he wasn't a very good student in high school and knew then he wanted to be a pilot, like his father, Danny Sitnam, who fought fires and is a founding member of Helijet, Canada's first scheduled helicopter service.
McClung-Sitnam preferred helicopters to planes and got his commercial helicopter pilot's license when he was 18 and spent the next decade flying an air ambulance and fighting wildfires in BC.
It was rewarding work.
But McClung-Sitnam wanted to do more. He was inspired by his uncle, who has worked in the humanitarian field for 45 years, most recently as deputy director for CARE International in the Democratic Republic of the Congo.
"I found [his work] really interesting and I wanted to get into it, but the challenge I had was I didn't have any humanitarian experience."
But he had a skill, and a passion.
"So I tried to find how I could marry the two."
'Improving human welfare'
McClung-Sitnam went back to school while still working as an air ambulance pilot. That is where he met McClung-Sitnam met Adam Aldous, a former pilot in Afghanistan. Together, along with Danny Sitnam, they started Helicopters Without Borders.
Having charitable status allows HWB to lease helicopters at cost, while pilots volunteer their time. McClung-Sitnam is the only full-time pilot but the organization has grown over the year and now has two part-time staff, a bookkeeper and a logistics coordinator, along with eight volunteers. McClung-Sitnam credits his education as setting the foundation of knowledge to help him to perform multiple roles, from bookkeeping to fundraising, business development to operational logistics.
McClung-Sitnam is now working on his thesis, which examines how to reform healthcare delivery in isolated parts of BC. Visiting remote communities and their residents has inspired McClung-Sitnam with some ideas.
HWB has partnered with the First Nations Health Authority, which works to reform and redesign health programs and services in BC.
"We developed an approach that first listens to the interests and needs of our Indigenous partners. From there, we offer our services as an opportunity to consider when accessing health and wellness," says McClung-Sitnam, who transported vaccines to the Lax Kw'alaams Band, Metlakatla First Nation and Gitga'at Nation on his inaugural HWB flight.
"We are focused on improving human welfare and believe that by a sustainable aviation strategy, we can, in turn, supply nutritional goods, clean water, healthcare and wellness to most at-risk communities."