Topics
Featured
Share online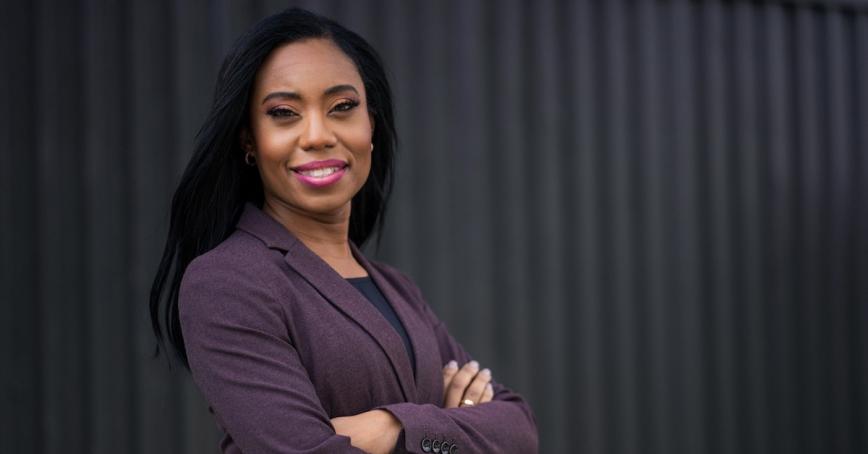 In building her successful career based on learning, leading, mentoring and inspiring, Siobhan Calderbank didn't have to look far for inspiration of her own.
She says her inspiration comes from her mother, Yvette Grimmond, a professor teaching math and electronics at Toronto's Seneca College of Applied Arts and Technology.
Calderbank describes her mother as smart and articulate.
"She has a lot of patience and shows genuine care for other people, which I greatly admire and she has an abundance of strength, too," says Calderbank. "These are all qualities I saw on a day-to-day basis and I thought, 'That's what I want to be when I grow up.'"
Calderbank, a graduate of Royal Roads University's Master of Arts in Leadership program, was recently selected for a Lifetime Achievement Award by the International Association of Top Professionals. She is among a small group of honourees distinguished for "their longevity in their fields, their contributions they have made to society and the impact they have had on their industries."
Toronto-based, she's the senior director of talent management with the Liquor Control Board of Ontario — a job she has held for two years after a long career in technology, consulting, public service and telecommunications. She is also an author and public speaker on leadership, managing change, and diversity, equity and inclusion.
"I love learning," she says, noting that supporting others as they develop in their careers is rewarding, as is helping them manage the change that comes with that.
Sometimes that change is especially profound and personal. For instance, while diversity, equity and inclusion have always been important to her in the workplace, "I don't think I felt like I always had the space to talk about it."
What changed that, she says, was a global movement to look at how Black people are being treated, "which created a space to talk about challenges Black people face more openly."
"That took courage to do," Calderbank says. 
"We're talking openly about microaggressions, these slights that people say that they don't think are offensive, but do hurt deeply. So how do we start changing that culture, how do we start allowing people to heal? It's not going to happen overnight, but we have to start somewhere.
"That part really excites me because I feel that it's a really big shift, which is linked to change as well as learning. People can only start to change when they understand the bigger reasons why and the impacts of remaining the same."
Leading change means setting an example and mentoring other potential leaders, especially women — and notably Black women.
"I find that many other women of colour, and especially Black women, feel that they can relate to me," she says. "To see somebody [who's Black in a senior position] gives you hope that 'I can break through those barriers' or 'I can be something,' but it's hard for you to believe it's possible unless you actually see it.
"That's why I think it's so important to provide that reassurance or that extra level of support and encouragement to other Black females in their careers… As long as we're working collectively towards the same goal, we all rise together."
Her leadership and mentorship have not gone unnoticed. In addition to being named one of Canada's 100 Accomplished Black Canadian Women for 2022, she was recently invited to contribute a chapter to the book Heroes, Leaders, Legends: The Power of the Human Spirit: Spreading the Light of Hope and Inspiration. Her chapter, "The 7 Cs for Success and How You Can Stand Out", will be in a book along with some famous names, including two of her "sheroes": Oprah Winfrey and literary giant Maya Angelou.
"When I saw who the other book contributors were, I was floored," says Calderbank. "I just sat there in shock and disbelief. I didn't know whether to cry or to dance."
That mix of emotions reflects her experiences during her career. Being open and authentic with colleagues and mentees is something she credits to her time in the MAL program, which she says changed the way she looked at leadership.
One thing Calderbank shares with others is that even someone as accomplished as she is struggles at times.
"People just assume if you're strong on the outside, you're strong on the inside and you're good to go, but that's not always the case," she says, noting women carry a lot of burdens on their shoulders. "Maybe we need to be more open with that."
She shares a leadership lesson learned at RRU: "People can't relate to perfection because we're all imperfect. It's better to allow people to see your authentic self as a leader and use that to form genuine connections."
Canada marks Black History Month in February. You can visit our Black History Month webpage for more stories about Black people in our community, to learn about upcoming events and discussions, and to find cultural and educational resources put together by our Royal Roads community.
Siobhan Calderbank on the two qualities that helped her succeed when faced with challenges.