RRU celebrates Spring 2023 Convocation award winners
Topics
Share online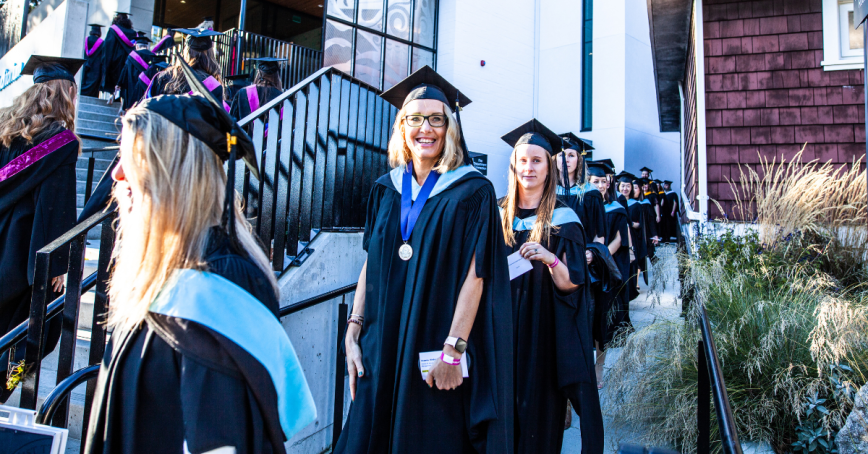 Royal Roads University congratulates Spring 2023 graduates and salutes the achievements of students for academic excellence and extraordinary contributions to the classroom and beyond. 
Governor General's Gold Medal
Doctor of Social Sciences graduate Courtney Defriend receives the Governor General's Gold Medal in recognition of her thesis, "You belong to everyone": Urban First Nations access to health care. 
This highly prestigious award recognizes student at each of Canada's public Universities twice a year for having presented the most outstanding dissertation, thesis, or graduate research project. 
Learn more about her award-winning thesis and find out what she's learned about the impact Indigenous friendship centres have on feelings of belonging and connection with culture.
Royal Roads also recognizes the following candidates for receiving a nomination for the Governor General's Gold Medal:
Kerri-Lynne Hysuick, School of Business
Joanne Kathleen Connauton, School of Communication and Culture
Michael Bryan MacKay, School of Education and Technology
Bryanna Louise Matthews, School of Environment and Sustainability
Jodi Leanne Enns, School of Humanitarian Studies
Laura May Hahn, School of Leadership Studies
Aisha Bello-Asemota, School of Tourism and Hospitality
Royal Roads Chancellor's Award
The university presents the Royal Roads Chancellor's Award to graduates who achieved the highest academic performance in their undergraduate or graduate program.
Spring 2023 Chancellor's Award recipients:
Esther Nadine Eidse, Master of Arts in Conflict Analysis and Management
Carden Elizabeth Georgina Serviss, Master of Disaster and Emergency Management
Erin Marie Edwards, Master of Arts/Science in Environment and Management
Catherine Adela Albertson, Master of Arts in Environmental Education and Communication
Crista Valentino, Master of Arts in Global Leadership
Rebecca Anne Lacharity, Master of Arts in Human Security and Peacebuilding
Melissa Ashley Jahn, Master of Arts in Justice Studies
Melina Lee Scholefield, Master of Arts in Leadership
Behnaz Tanha, Master of Arts in Tourism Management
Heather Megan Domzal, Master of Business Administration 
Robin Todd Steward, Master of Global Management
Founders' Award
The Royal Roads Founders' Award is presented to a student or a small collective of students in each graduating cohort of a degree program for exemplifying the qualities of leadership, commitment to sustainability, positive and proactive work in equity, diversity and inclusion, and personal growth.
Spring 2023 Founders' Award recipients:
Matthew James Edward Schell, Master of Arts in Conflict Analysis and Management
Danielle Helene Vernooy, Master of Arts in Disaster and Emergency Management
Tai Satie Uhlmann, Master of Arts/Science in Environment and Management
April Maiko Kuramoto, Master of Arts in Environmental Education and Communication
Lynn Marie Weaver, Master of Arts in Global Leadership
Jennifer Rosado, Master of Arts in International and Intercultural Communication
Jamie Lyn Marie Sterling, Master of Arts in International and Intercultural Communication
Emily Marie Addicott, Master of Arts in Justice Studies
Rowena Browne, Master of Arts in Leadership
Charlene Margaret Lafreniere, Master of Arts in Leadership
Melina Lee Scholefield, Master of Arts in Leadership
Tasha-Marie Rene Clarke, Master of Arts in Leadership – Health
Minh Tra Tran, Master of Arts in Tourism Management
Heather Megan Domzal, Master of Business Administration in Executive Management
Ruhan Eng, Master of Global Management
Priyanka Gandhi, Master of Global Management
Ankit Khanna, Master of Global Management
Tyler Thomas Blackwood Walton, Bachelor of Commerce in Entrepreneurial Management 
Tamara Wai-Chi Pittis, Master of Arts in Leadership