RRU alum wins award for green work
Topics
Featured
Share online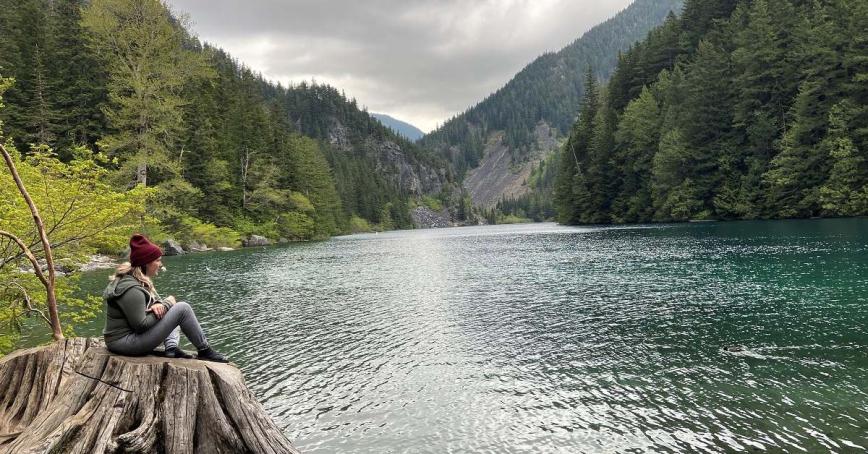 Clarissa Huffman's journey in sustainability has taken her from coast to coast to coast and back home again.
Huffman, a registered professional planner and alum of the Master of Arts in Environment and Management (MEM) program at Royal Roads, is the 2023 winner of the ECO Canada Impact award for environmental professionals-in-training.
She was chosen as an award-winner for showing excellence in the Canadian environmental workforce – due to her work as a climate change planner and project manager for Morrison Hershfield, a Canadian engineering and consulting firm. Working in one of the company's Ontario offices, Huffman's  work is a culmination of her thesis,  Sustainable Community Development in Northern Communities: Applications for Affordable Housing in the Yukon, and her experience working in the cities of Dawson, YT and Port Coquitlam, BC.
Huffman originally studied anthropology with a minor in archaeology, then worked as a field technician for a consulting archaeologist in her home province of Ontario after graduating. She recalls that wind turbines were a contentious issue for Ontarians at the time. Residents were concerned about noise, ecological impacts, and stormwater runoff.
"I think we've come a long way in proposing solutions and in having a lot of really important community conversations about trade-offs and co-benefits." -Clarissa Huffman
Those conversations, in part, inspired her to pursue post-graduate studies in urban and regional planning with the intent of becoming an environmental planner. Her first job as a community planner was for Dawson City, in northern Yukon. Huffman brought a new approach to planning when she joined the municipality by introducing proactive, future-focused strategies, allowing the city to look beyond short-term reactive environmental approaches.
"One of the projects that I got to work on was as Dawson's municipal representative for 'Our Clean Future,' the Yukon's strategy for climate change, energy, and a green economy," she says.
Getting to be a part of that conversation and represent the interests not only of the local government, but of the community as part of that process really sparked an interest," Huffman says, noting the experience led to her studies at RRU and helped in forming the basis of her thesis.
"I was really interested in having more detailed conversations about how people could embed environmental decision-making into their leadership style."
She chose the MEM program partly for its blended format, "So I could do it largely from Dawson, and then could come down to the island once a year for those really generative in-person sessions."
While writing her thesis, Huffman took a job with the City of Port Coquitlam, working as an environmental coordinator with a portfolio focused on environment, sustainability and climate change before relocating to Morrison Hershfield. Her work focuses on climate adaptation at a local level and involves facilitating conversations about how cities can be designed, built and maintained with climate in mind.
Huffman is also co-chair of the Planning Institute of BC Climate Action Sub-Committee, and a board director of both the Stewardship Centre for BC and Starfish Canada. They all fit her values, from climate-informed community planning to grassroots stewardship of natural spaces.
"Climate change has become one of the most pressing issues of our time, requiring immediate and bold action across all levels of government and sectors of society," she writes in her ECO Impact award submission.
"As our understanding of the drivers influencing global climate change improves, governments are declaring climate emergencies and committing to building more resilient communities, reducing greenhouse gas emissions, and adapting to a changing climate.
"I spend a lot of time in all facets of my life on a journey of self-improvement so that I can show up as the best version of myself for my community, particularly when it comes to my own individual impact. I believe firmly in the significance of individual and collective impact and try to demonstrate with my actions that small decisions can make a big difference."
---
We always want to hear stories about the people, programs and places that are the Royal Roads experience. Share yours via the RRU Story Exchange and it could be featured on our website and social media.