Royal Roads University acquires Cowell painting
Topics
Share online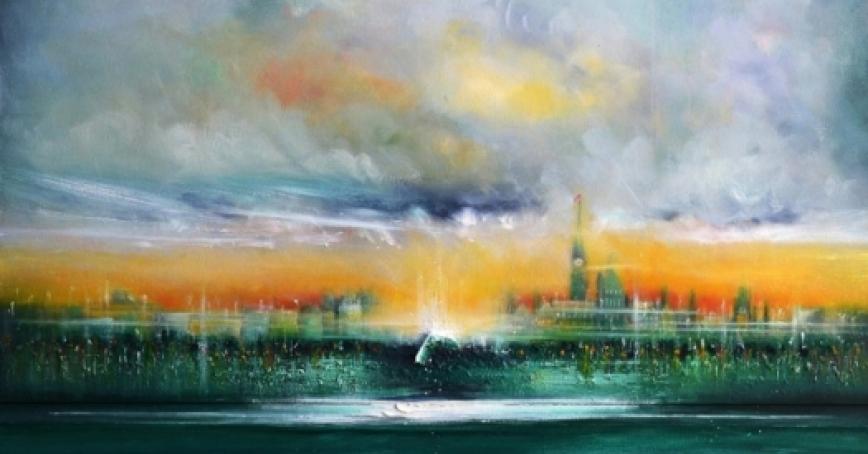 Dr. Ann Dale has donated the mixed-media painting "Carbon Thoughts" by Canadian Artist Nancyanne Cowell to the Royal Roads permanent fine art collection.
The luminous oil and wax painting with a small whirlybird maple key tumbling in front of Canada's Parliamentary Library and Peace Tower will be on permanent display in the Sherman Jen Building, a century-old stable that was renovated into world-class environmental science laboratories and teaching space in 2018. The building is also home to Royal Roads School of Environment and Sustainability where Dale is director and a professor.
"This painting is a dramatic pictorial statement that we need our politicians to act now," says Dale. "The recent UN Intergovernmental Panel on Climate Change report states we have only twelve years to act [to limit devastating global warming] and it is all about political will."
The painting is part of the Edging Forward art collection, a creative multi-media collaboration between Dale and Cowell that was published in both print and e-book form in 2017. The work blended storytelling and science to weave together Dale's more than 15 years of research on sustainable communities and climate pollution. Cowell provided large-scale paintings to illuminate and respond to each chapter's theme.
Dale, who is Royal Roads first Canada Research Chair and a Trudeau Alumna, says that wherever possible, she tries to integrate art and science in her research.
"Today our world is facing issues of an unprecedented scale and complexity," says Dale. "If people are going to be moved toward taking immediate action, their hearts and minds need to be engaged."
The painting can be viewed by the public during regular business hours.