Royal Roads MBA student business gets cruising
Topics
Featured
Share online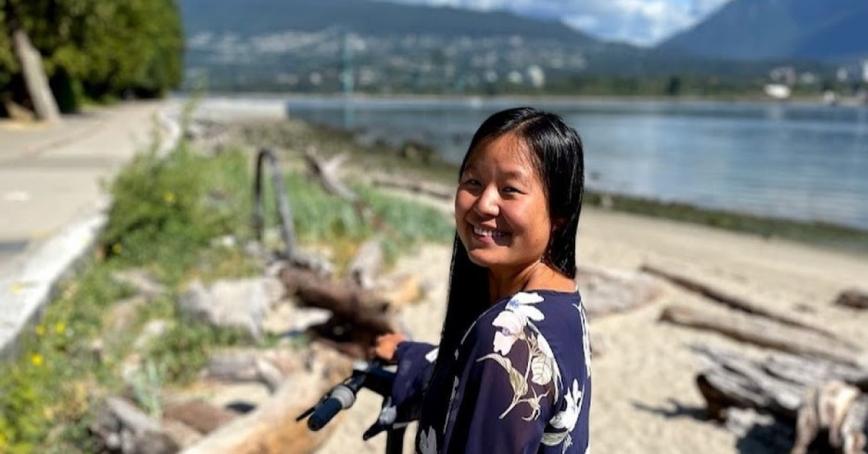 Annie Luke, a Royal Roads University Master of Business Administration in Executive Management student, is going places and helping others get around with an e-scooter business she helped start after getting laid off during the pandemic.
She is back in Ontario at her job as an assistant restaurant manager at a hotel in downtown Toronto, but plans to return to BC to support her Cruz co-founders keep pace with the company's rapid growth.
Luke had just flown to Comox to visit her parents in March 2020, a surprise for her mother's birthday, when she received an unexpected call from work. The hotel where she worked was seeing frequent cancellations and a lower occupancy due to COVID-19 and she was temporarily laid off.
Luke didn't know what to do next. She worked on puzzles. She started working out outdoors again. She refinished her father's boat.
"Then I got back into writing because I had this piece of work that I really want to get published and just, really, rediscovered the woman behind the job. And that was truly a gift," she says."My career had been my whole identity at that time."
Luke had been considering going back to school for her masters in 2025. She applied for RRU's 18-month MBA program in April 2020 and was accepted. Rent was expensive, so she stayed with her parents. Friends in Toronto helped pack and ship her belongings to the West Coast.
The next month, she ran into a neighbour who she knew only from a game of Scrabble they played three years prior. He asked her about electric scooters and tourism and showed her a business plan.
Step by step
Luke thought it was a good idea. She knew hotels were expanding their wellness and experience programs and adding value to attract more business because of COVID-19.Three days later, she became a co-founder of Cruz, and incorporated Step Mobility Inc.
Cruz provides the hospitality industry – primarily boutique hotels – with electric scooters; giving tourists an affordable, sustainable, and efficient way to get around. Guests can rent a Segway Ninebot G30 MAX E-Scooter at hourly or daily rates and explore local attractions while supporting local businesses.
"I think the selling point is that it allows you to do more than you originally thought you were capable of when it comes to exploring, like the seawall. If you're only in town for a few days, you want to make the most of it," says Luke, who also has a Bachelor of Arts in International Hotel Management from RRU.
She started the MBA program in July of 2020, sleeping on a friend's couch for three months while getting Cruz rolling in Victoria.
"It was challenging," Luke adds. "There was a time where I felt very overwhelmed because I was doing finals for my MBA and Iaunched four hotels in a week and a half."
Her MBA team members at RRU helped her get through it.
"They were exceptional. I'd hop on Zoom and they'd see me fixing a scooter in a hotel lobby while I was talking to them about our project," she says. "Thank goodness for AirPods and Bluetooth."
At this point, Luke was moving to a different hotel every three days to set up the systems and training for Cruz.
Up and 'cruzing'
The company piloted with two hotels in Edmonton and two in Victoria to test the feasibility of the product. Cruz now has 11 partners in BC, including Vancouver.
One of them, Parkside Hotel and Spa in Victoria, is run by Trina White, one of Luke's instructors at RRU.
"She has been a huge advocate," Luke says of White, "and her team has been exceptional. I think a lot of it has to do with the work culture. Everyone on the staff is very approachable. They prioritize experience. Anyone who walks through those doors is taken care of. Everyone embodies that."
That resonated with Luke, as did leveraging the skillsets of the founding team members.
"I think we can have an exponential impact if we can understand how to leverage our skill sets appropriately."
Cruz has been operating for two years now and Luke is scheduled to finish her MBA in May.
In January 2022, she was recalled by her employer. She says she is grateful to be back at work, but plans to return to BC by winter to focus on Cruz.
Her aim is to expand the business,  potentially reselling the used e- Each one costs about $1,100 new.
"I would love to be able to do something like that, where people who struggle with access to transportation, aside from buses and stuff, have an alternative method that isn't a huge investment for them," she says.
 "Transportation challenges can impede someone's ability in solidifying a job, therefore, attaining financial and personal stability. We can't buy time."