Royal Roads grad shares story of gratitude in book by immigrant women
Topics
Featured
Share online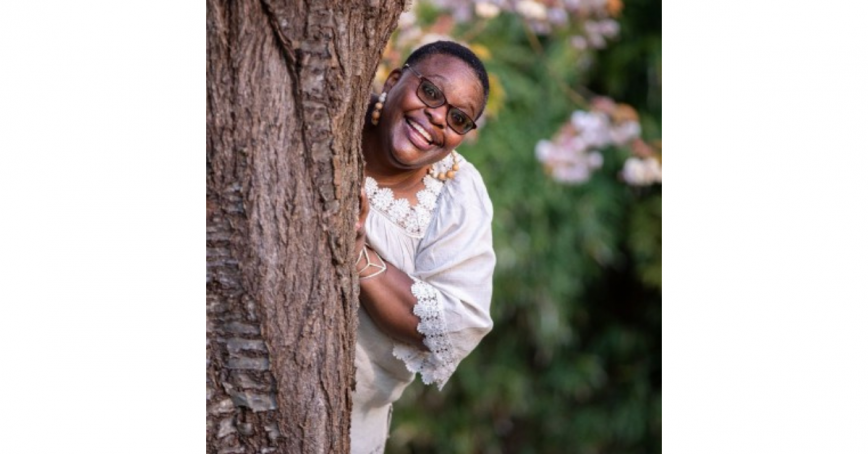 Royals Roads University helped Judith Obatusa not only secure a career she is proud of but also instilled in her the confidence and strength to share her story of immigration in a new book meant to let others know they are not alone.
Obatusa graduated from the Master of Arts in Intercultural and International Communication program at RRU in March 2019, 24 years after earning her first degree in Nigeria.
Obatusa tells her story of immigration, overcoming the death of her mother as a child, then the passing of her father a month after arriving in Canada, raising four children while becoming accustomed to a new country, in a new book, The Warrior Women Project*. The book is an anthology of 22 writers from 13 countries, currently living on three continents, and their experiences as immigrants and as women, and is available in a print copy from the RRU Library. 
Obatusa's story is called "In the Promised Land."
She is grateful for the life she has now, and credits much to her education. But it took time and support –which comes from being part of a community, one she found at the Royal Roads campus in Victoria.
Life in Nigeria
Obatusa was raised in northern Nigeria. Her father, Augustine Chukwuka Kambia, was a successful banker until retirement, then became a university lecturer.
Her mother, Ngozi Rita Kambia, died in a car crash when Obatusa, the eldest of three sisters, was six years old. Her father cried for months afterwards, she says. He was loving and considerate and took good care of his daughters, Obatusa adds. He later remarried, but she missed not having a mother. That's why she fights for her children.
"I wanted my children to not feel the void that I felt."
After graduating from Federal Government Girls College Bakori, then in Kaduna state, Obatusa earned a degree in applied biochemistry from Nnamdi Azikiwe University in Awka, Anambra state. She then married and had four children, two girls and two boys. The family moved to Canada when the eldest was 13, the youngest four, to give them a better life, she says.
"Nigerian parents are willing to invest a lot into equipping their children for life."
Obatusa had family in Canada, including an uncle who was a neo-natal surgeon.
Canada had good opportunities for immigrants, she says, as well as "a strong GDP and goodwill."
Racism in Canada
In 2012, they moved to Windsor, Ont., where she had family. A month later, her father died. He was 68.
It was a sudden passing. She had talked to him on phone one day, but the call dropped. She phoned back two days later but couldn't reach him. Two days after that, she learned he was gone.
"That was devastating, " Obatusa says.
It took Obatusa over a year to regain her zeal for life, but she still had children to raise in a new country.
She joined settlement programs but faced racism and struggled with cultural differences.
"It's covert in Canada," Obatusa, who is Black, says of racism. "In the book, one of the things I talked about is microaggressions."
Some of the people she met would suggest they go out for coffee, but they never did. She would see some of those she met through the settlement organizations, who knew her and her story, at the grocery store and they wouldn't even say hello.
"They ignore you like they've never met you before," she says.
In Nigeria, Obatusa says people who work together become friends, sometimes best friends. They attend each other's weddings. They celebrate each other's children being born.
"Because, if you think about it, most of your waking moments are spent at work. So how can you work with people who you cannot be friends with?"
But Obatusa go involved with another settlement program and made friends. One suggested she would do well in social work.
"I wanted to help other people," Obatusa says.
Home in the west
While researching schools, and after being rejected by three, Obatusa found Royal Roads. The school only required a Canadian conversion of her university transcript from Nigeria - an international credential evaluation.
She applied to the Master of Arts in Intercultural and International Communication program and was accepted.
"It was an entirely stress-free process."
She took the blended delivery model, with a residency on campus. She came to Victoria and fell in love.
"I discovered that this province is very beautiful."
Victoria was also laid back like Kaduna, a state capital in northwestern Nigeria and a place she remembers fondly from her childhood.
Obatusa made more friends at school. They started a walking club. Every day they met at 6 a.m. to walk on the grounds around Hatley Castle. It woke her up. She quit drinking coffee. She still keeps in touch with her friends from the walking club.
After her convocation in June 2019, Obatusa started working full-time as a communications specialist with the Public Guardian and Trustee of B.C., which protects the legal and financial interests of those 19 and younger, as well as adults who require such assistance.
Obatusa is also the founder of Broken and Braced, a safe social media platform for experts, survivors and victims of domestic abuse, and is involved with other community groups and charities.
She lives in Coquitlam now and is writing her own book, a dream since she was nine years old. It should be finished by the end of the year.
"Coming to Royal Roads opened a world of possibilities for me," Obatusa says. "The Royal Roads experience helped me to understand the Canadian culture more because I was in intercultural communication."
The program changed her thinking. It gave her confidence in herself. It showed her that she is unique and valuable. That is what her story in The Women Warrior Project is about. 
"The whole point of the book is to tell all the immigrants that it might not be an easy journey, but you will get to your promised land."
*Partial proceeds from the sale of The Warrior Women Project go to the Malala Fund, supporting a free, safe, quality education for girls around the world.