Researcher seeks diversity in energy sector
Topics
Share online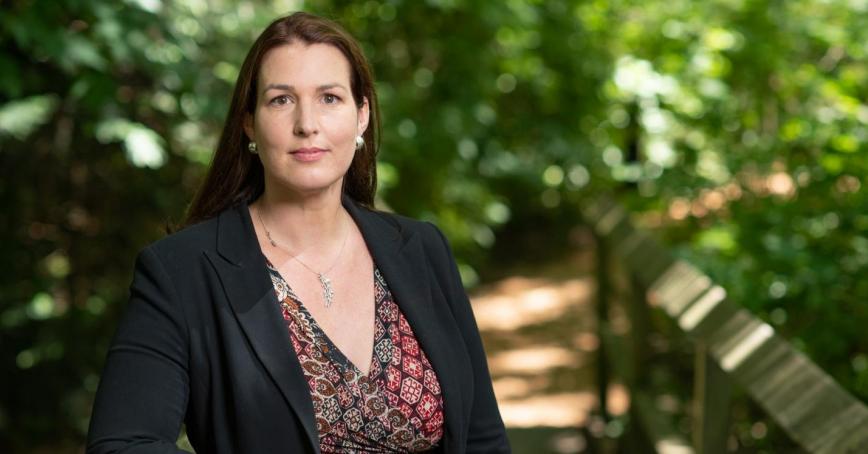 When we think of energy — or, at least, the business of energy and the people leading it — we may think of men in suits in boardrooms.
And we wouldn't be wrong, says Julie MacArthur.
An associate professor and Canada Research Chair in Reimagining Capitalism at Royal Roads University, MacArthur says energy systems around the globe are facing significant restructuring along with pressures to decarbonize, decentralize, diversify and decolonize.
But there is no guarantee that a low-carbon transition will be just or equitable in Canada. There's even a lack of diversity in who researches the energy sector.
That's why MacArthur and her colleagues in Women and Inclusivity in Sustainable Energy Research (WISER) network applied for and received a Connection Grant from the federal Social Sciences and Humanities Research Council (SSHRC) for their study "Strengthening Diverse Research Capacity for an Inclusive Green Recovery in Canada."
"Energy sectors are some of the least diverse in terms of employment but also in terms of the people asking questions and doing research. It's highly masculinized," she says. The research funded by the SSHRC grant is focused on "who's gathering the data and what kind of questions are being asked about the sector."
While MacArthur, an internationally recognized scholar of energy democracy and the politics of low-carbon transitions, is the principal investigator, she has 16 co-investigators and collaborators from universities across Canada, including Runa Das, an RRU assistant professor.  The grant is a partnership with the Smart Prosperity Institute (SPI) and Women in Renewable Energy (WiRE) Canada to maximize the knowledge mobilization between researchers, policymakers and energy sector employees.
"When we start looking at upstream and downstream energy industries" — oil and gas, electricity generation, transmission, distribution, retail — "women are largely concentrated in part-time and administrative jobs, basically in the poorest-paid jobs in those industries," she says, adding that their representation in these industries ranges from 20% to 50% of the workforce.
And while among some there's a presumption that a transition to low-carbon energy and away from oil and gas — and that industry's entrenched "old boys" networks — will automatically include a shift to a more diverse set of employees, including more women and more people of colour, "It's quite clear that's not necessarily true," she says.
In fact, she notes that international research shows moving to solar or wind or other green power sources isn't a guarantee that the workforce will be representative of the population or reflect the communities in which they operate.
"You actually have to build equity and diversity into transition policies. You have to be collecting the data and asking the companies to report on progress. And if they're not diverse and inclusive, why?"
She asks and answers another question: "Why should we care as long as emissions are reduced? One answer is that demographic diversity widens our base of innovative solutions, and increases the likelihood we'll ask the right questions and choose effective, rather than just symbolic, answers."
If government or industry is looking at low-carbon transportation alternatives, for instance, different populations will vary in their support and uptake of private electric vehicles versus mass transit or active (biking/walking) transport depending on costs, resources and how they perceive risk in their environment.
Similarly, it's important that researchers in Canada are representative of the country's racial, class and gender diversity, she says, noting that historically, male researchers are disproportionately represented among grant recipients and those featured in the media.
MacArthur says the SSHRC Connection Grant will support outreach activities including: media and academic career training for WISER members; three online public symposia showcasing the work of a diverse and interdisciplinary group of energy transitions scholars; partnerships between WISER, SPI and WiRE to produce podcasts, interviews and opinion pieces; and a book symposium leading to an edited collection on "just and sustainable energy transitions in Canada."
That's not the only book on her agenda. MacArthur, who spent the previous seven years at the University of Auckland, New Zealand, co-edited and contributed to a new book, Environmental Politics and Policy in Aotearoa New Zealand, with Maria Bargh, associate professor of Māori studies at Victoria University of Wellington.
• Julie MacArthur earned a PhD in Political Science from SFU, a Master of Arts in Asia Pacific Policy Studies from UBC and a Bachelor of Arts (Hons.) in Applied Studies, with specializations in International Trade and Peace and Conflict Studies, from the University of Waterloo. She is the author of Empowering Electricity: Co-operatives, Sustainability and Power Sector Reform in Canada as well more than 30 articles and book chapters on energy democracy, participatory environmental governance and comparative energy policy.