Ready for "le troisième étape:" Dr. Virginia McKendry retiring
Topics
Featured
Share online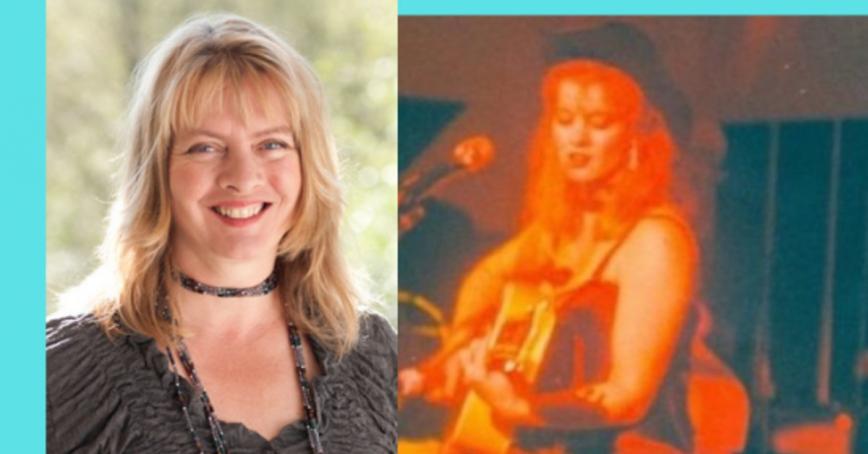 Like the songs she performed during her formative years in the Calgary and Vancouver arts scenes of the late 1970s and early 1980s, Virginia McKendry's life has followed a pattern that's more lyrical than linear.
"Music was one of those things that carried the zeitgeist in it," says McKendry, an associate professor in the School of Communication and Culture, who is retiring from Royal Roads on March 31, but will continue with part-time teaching. "It gave me a place for big ideas and feelings."
Her early experience as a vocalist contributed to the making of a future historian and communication scholar. McKendry reflected on what came before Royal Roads, what she's done here, and where she hopes to go in what she variously calls her troisième étape and her "inspirement." 
Raised by her mother and step-father in Calgary and descending from families who arrived in Alberta in the early twentieth century to farm, mine and build, McKendry grew up in a city was incandescent with culture. A self-described "bohemian" singing in punk, country-swing, and folk bands in her teens and twenties, she enjoyed the scene as much for the conversations with book-loving artists and intellectuals there as she did the performances.
Her talent took her to Vancouver in 1984 but having seen, heard and done what was available in Vancouver's music venues, she had a fateful encounter with an industrial psychologist who was doing research for her stepfather worked. She took an aptitude test with the psychologist which revealed her writing ability, and enrolled in a liberal arts program, and completed first a general studies B.A. in 1991, then an M.A. in women's studies in 1993 at Simon Fraser.
"It was never my intention to be an academic," McKendry said. "I simply listened to the call of the things that were fascinating to me, where I felt most alive. And it was always in libraries and classrooms."
A chance invitation to follow an instructor she knew at Simon Fraser who had taken a job at York University in Toronto led her, accompanied by her husband Will, to a history Ph.D. program there, where she specialized in British history. Upon her graduation in 1998, she and Will returned to Calgary, where she found work as a researcher with a PR firm.
There, the interdisciplinary and feminist scholar continued with her transformation into a communication professor, one that begun with her extensive use of the literature in visual culture and communication theory in her doctoral research. After three years with National Public Relations and a start-up web design shop, Virginia answered a job ad in 2001 for a specialist in "culture and representation" in a new program in contemporary studies at the Brantford, Ontario campus of Wilfrid Laurier University. She taught communication there for two years, then spent another two years at the main Laurier campus in Waterloo doing the same.
It was another job ad for a position in the School of Communication and Culture at Royal Roads that brought her home west and back to academic life in 2011.  She was intrigued by the University's mandate in applied and professional degrees, mingling theory and practice.
"You couldn't have designed a better gig for someone like me," she said. The question Royal Roads answered for her was "Can we have critique and analysis, but also use in pragmatic ways the tools theory has given us?"
While at RRU, she helped develop the University's profile among Island First Nations communities, helping to create an Elder-led speakers series. McKendry was also involved in projects with the Cowichan Tribes relating to culturally informed HIV-AIDS care and prevention and a digital storytelling language preservation project.
Throughout her teaching career at RRU, McKendry earned the distinction of earning the most nominations ever for the Kelly Outstanding Teaching Award before winning in 2017.  She served as a program head for all five of the SCC's degree programs, the only faculty member in the School to have done that since its founding in 2003. She also served as the vice president of the Royal Roads University Faculty Association.
McKendry will still teach part time, but she says it's time for a change.
"A number of factors converged that made me feel this might be another time for some kind of major change in my life," she said. "I want to learn to paint. I am learning Latin. I want to sit down with my guitar again and get my calluses back."