President Steenkamp: National Indigenous Peoples Day
Topics
Share online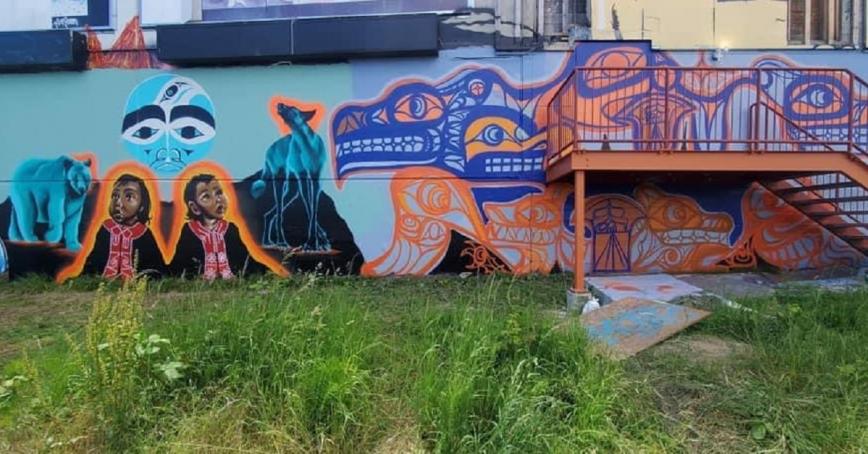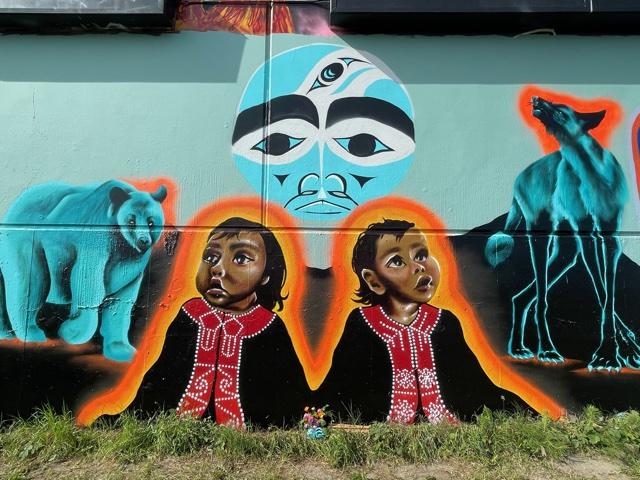 On June 21, 2021, we will mark the 26th anniversary of National Indigenous Peoples Day. I say "mark" rather than celebrate because Indigenous peoples are in mourning — the nation is in mourning — following the discovery of the remains of hundreds of children at former Indian residential schools.
I can't stop thinking about the thousands of children who were stolen from their families and taken to residential schools. I think of the many who died so far from home without the comfort and love of their families, and others who survived but carry the trauma of their experience with them.
With this in mind, there is a mural and a story I want to share with you. On my bike ride to work last week, I noticed this amazing mural painted on the side of a factory in Esquimalt along the E&N trail. It was painted recently by two local artists: Alex Taylor-McCallum and Ocea DeWolfe. It includes two Indigenous children flanked by a bear and a wolf with a blue moon rising above them. It is a beautiful image. It speaks of innocence and wonder and of deep connection to nature, culture and traditions. It fills me with hope for the future, but also sadness thinking of the childhoods lost and cultures erased. 
The story I came upon this week is that of two brothers, Frank and Randy Williams, who died within two months of each other. Frank and Randy (or Danse, as he was known) were fixtures of street life on Commercial Drive in Vancouver for many years, where they were known for their beautiful carvings, good humour and generous spirits. They were Nuu-chah-nulth from the community of Ahousaht and, like so many of their contemporaries, they were taken away to residential school and spent time in a succession of foster homes. Last week, in the BC Legislature, Minister Melanie Mark paid tribute to Frank and Danse and their families, noting that because of the challenges they faced "they died victims of anti-Indigenous racism."
The mural of the two children and the story of the two brothers are now joined in my mind. I think of Frank and Danse growing up as little boys in the magnificent forests of Flores Island, surrounded by family and immersed in a rich culture. How might their lives have been different if they hadn't been robbed of their innocence, their sense of wonder, and their dreams? For me, the children in the mural represent all the little children dreaming of home, family and culture, those who were stolen and those who will come next. There needs to be accountability and consequences for what happened to Indigenous children in the past, as well as concerted action, at every level of society, to ensure Indigenous children succeed and thrive into the future.
Alex Taylor-McCallum, one of the artists of the mural, asked me to invite members of our community to bring flowers and other natural offerings to the site to honour the spirits of the stolen children (the mural is on the back wall of the Wholesale Club in Vic West, alongside the E&N trail).
This Monday June 21, Royal Roads University will once again join partners from across the region for National Indigenous Peoples Day. This will include an opening ceremony at 9:30 am and a closing ceremony at 3:15 pm on Facebook Live.
I encourage you to join in. You can also find links to more events throughout the day and month. Heartfelt gratitude to the Elders/Old Ones/Knowledge Keepers, to Asma-na-hi Antoine and the planning committee, and to those in our Royal Roads community who make these events possible. 
I'm deeply grateful, every day, to live and learn on the traditional Lands of Lekwungen and Xwsepsum ancestors and families. 
Hay'sxw'qa si'em!