Topics
Featured
Share online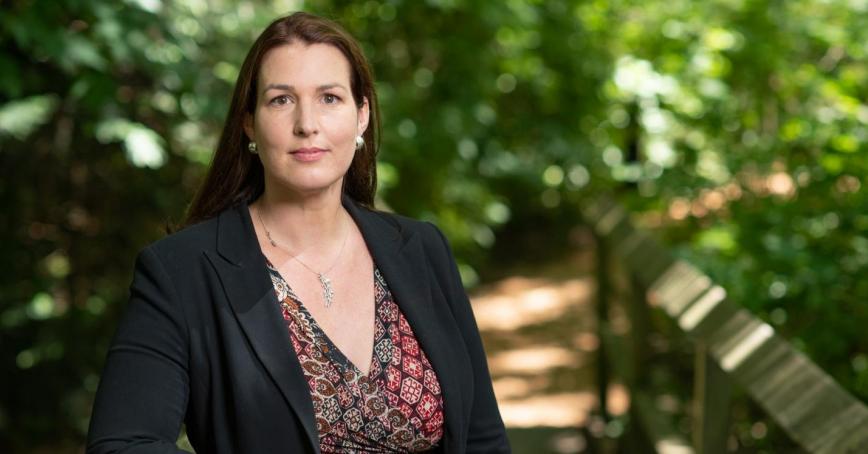 As newly appointed Canada Research Chair (CRC) in Reimagining Capitalism, Dr. Julie MacArthur is interested in the redistribution of power—both in terms of access to energy but also in terms of economic and decision-making power.
"It's not just a small group of investors or technocrats who decide where infrastructure goes and the purpose it's for, but it's for the people who use it. It's power to the people, essentially," she says.
The designation, announced June 15 by the Honourable François-Philippe Champagne, Minister of Innovation, Science and Industry, recognizes research excellence in some of the world's most "promising and accomplished minds."
MacArthur's interdisciplinary research at Royal Roads University's School of Business will help to provide a clearer picture of energy democracy in Canada – who's involved, where it could grow, and how it compares to rest of the world.
Energy democracy – where traditionally under-represented people and communities have a more meaningful role in deciding how power systems are designed and how the benefits get distributed – is one of her main focuses.
Born in Prince George, MacArthur spent the last seven years at the University of Auckland where she was a senior lecturer, recipient of an early career research award, and co-organizer of New Zealand's first community energy conferences, which she calls the most rewarding part of her research career so far.
MacArthur's CRC research sets out to create the first public database resource for Canadian energy democracy projects, comparative research on the groups and strategies involved, and a new framework for thinking about their impact, trends and patterns.
"There are a lot more grassroots energy activities going on than the general public and many policymakers are aware of," MacArthur says, pointing out examples in New Zealand, Canada and elsewhere.
"In the U.K., there's a large and diverse community energy sector, including activities like community solar gardens, electrical vehicle sharing, or non-profit charging infrastructure, provided at low or no cost," she says. "The community energy sector is really snowballing as more of them develop and, crucially, the core purpose is not profit, but meeting human needs."
Not all of the projects are small either. In New Zealand, MacArthur says some of the largest geothermal projects in the world are partially Maori owned, with returns flowing back into community development or youth scholarships. "We're talking multimillion-dollar projects," she says.
On a pre-COVID research trip to Denmark, MacArthur visited the Middelgrunden offshore wind farm near Copenhagen. With 20 turbines, the community co-operative partnership was the largest offshore wind farm in the world when it was built in 2000.
After initial opposition, the project gained support through community involvement and economic benefit, and its design has made it a tourist attraction
"There are so many co-benefits layered in it, it is hard to put a dollar value on it – which makes the research really interesting."
Comparing energy democracy in Canada to the rest of the world will be front and centre for MacArthur.
"Canada is really interesting for the development of energy democracy as it is relatively understudied at a national level. The federal structure means that the kinds of policy incentives and rules vary from province to province, creating diverse challenges and opportunities. Indigenous sovereignty and energy justice is particularly important and needs to be front and centre in any Green New Deal."
Beyond assessing the state of community level projects, MacArthur hopes to help pave the way for initiatives like a national citizens' forum on energy policy, involving people from non-traditional groups. In 2021 she takes up the chair of the international WISER (Women and Inclusivity in Sustainable Energy Research) Network, which will be headquartered at Royal Roads for her tenure as chair.
MacArthur's appointment brings her home, where her parents were teachers primarily working in smaller communities around BC, including the Nass Valley and Lillooet region. When she was a child, they also worked with Cuso International for three years in Tanzania on projects to address poverty and inequality.
"I got from my parents a passion for understanding different cultures and an awareness of our powerful but also deeply problematic history with Indigenous peoples and nations in Canada," MacArthur says. "Growing up on First Nations land in this settler-colonial society really instilled in me the idea that radical change is needed in how we relate to the land and to each other."
While her doctorate is in political science and political economy from Simon Fraser University (where she earned a convocation medal for research excellence), her natural affinity is for interdisciplinary approaches to challenging policy and governance issues like climate change.
The opportunity at Royal Roads was a natural match. "I had heard about the focus on interdisciplinary, practical impact and making a difference at Royal Roads previously," she says. "All of those things really attracted me so when this opportunity to join as a CRC in reimagining capitalism presented, I jumped at it."