Peanut butter boss pivots to help community
Topics
Featured
Share online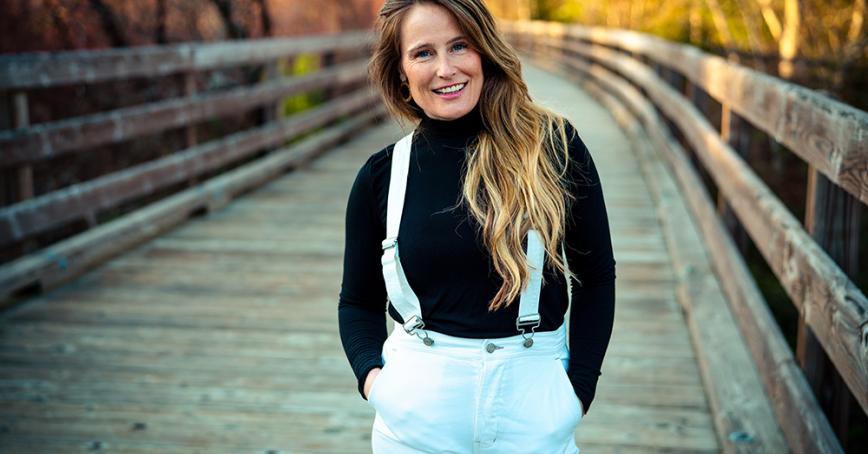 She was a 17-year-old who lived a life of privilege, and was compelled by a book about atrocities half a world away to learn more.
She was a university student who earned a political science degree, specializing in genocide studies.
She was a struggling young woman who went into recovery — twice — from drug and alcohol addiction.
She was a master's student with a drive to do humanitarian research.
Jill Van Gyn still has all those earlier versions of herself inside her.
And now she sells healthy peanut butter.
For her efforts to not only do well but to do good with her company — Victoria, BC-based Fatso Nut Butters — Van Gyn was recently named the Entrepreneurial Leader winner in BC Business magazine's 2021 Women of the Year Awards.
A native of the British Columbia capital, Van Gyn didn't set out to become an entrepreneur. In fact, after earning her undergrad degree, after going through recovery and after earning her Master of Arts in Human Security and Peacebuilding in 2015 from Royal Roads University, she set out for Uganda, where she did research about the intersection of natural resource extraction and conflict.
But with her research completed and published, she returned home and reassessed her future — and she wasn't happy about it.
"I went through this crisis. It was a spiritual crisis, it was a personal crisis, and professionally I was very unsure of where I wanted to go," she says. "And this sort of brought me to a different rock bottom than I'd experienced in my addiction. I had a really difficult time understanding how I was going to make a career for myself."
Drawn back into the hospitality industry — work she'd previously done to help put herself through university — she stumbled across Fatso products on the shelves of the health food restaurant where she worked.
"I thought it was just this brilliant, million-dollar idea. The name was so fun, the concept was solid, except it did not have good marketing and it didn't have scalability," she says.
A business for the price of a used car
Van Gyn approached the owners about buying into the company but they weren't interested. Not long after, when they ran into business difficulties, she bought the operation, as she likes to say, "for about the price of a used car."
Actually, what she bought in 2016 were the name, the recipe rights, some equipment, supplier connections and training on how to make the products. Those products now include peanut butter with plant-based fats as well as almond and seed butter, in flavours such as Classic, Maple and Salted Caramel. Soon, as part of a two-year marketing and publicity campaign, she was traversing Vancouver Island and Metro Vancouver, lugging dozens of cases of her product to stores, where she'd often do demonstrations to move merchandise.
It paid off and now Fatso is sold Canada-wide by hundreds of smaller retailers and by big names such as Loblaws, Sobeys and Whole Foods. Shoppers can also find Fatso products in Washington and Oregon, and California is next.
While the business proved successful, that alone wasn't enough. And it's here that the unexpected entrepreneur reconnected with her educational roots and passions.
Fighting food insecurity
She has used her company's assets to help underfunded causes that might not otherwise get business support, chief among them Peers Victoria Resources Society, which provides outreach and support services as well as education and employment training for current and former sex workers.
And last year, when the pandemic hit and grocery store shelves were being stripped bare by panicked shoppers, based on her education, she knew what she was seeing — food insecurity — and how she wanted Fatso to respond: "We pulled the brake hard on Fatso as a business. We were now an ad hoc food security organization."
The company sent free product to local groups helping those in need and their counterparts as far afield as Ontario, Washington and Kansas City. Van Gyn would source excess groceries from those who'd over-bought and redistribute them to food banks.
"I had this opportunity to exercise a lot of these things that I had learned in my master's degree," she says.
"It was the most rewarding period of my career. [I] was, in a time of need, able to pivot into filling these gaps that people were unable to see during an immediate crisis within our own hometown. And to say we're not worrying about profits right now, we're worrying about our immediate communities and how we can be of service."
Indeed, for the first time since she's owned the company, Fatso lost money last year. "But we are purpose before profit. And I go to bed happy at night knowing that, during this time of extreme crisis and uncertainty, we were able to step up to the plate."
• Last December, Fatso gained B Corp status: "Certified B Corporations are a new kind of business that balances purpose and profit. They are legally required to consider the impact of their decisions on their workers, customers, suppliers, community, and the environment. This is a community of leaders, driving a global movement of people using business as a force for good."