Passion, purpose and paying it forward
Topics
Featured
Share online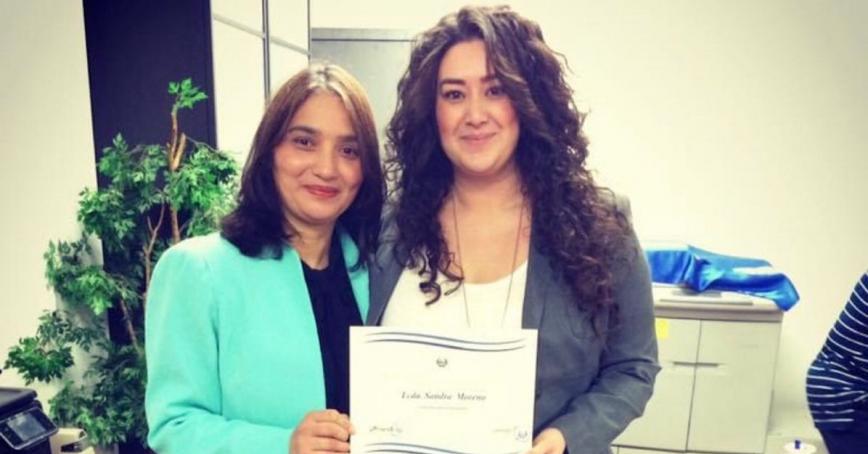 Sandra Moreno was just a toddler when her mother fled El Salvador to Canada after her father was killed in that country's bloody civil war. Growing up in Edmonton, she was a child who learned protest chants before nursery rhymes.
"My mom lost nearly all her family in the war. She came to Canada alone, with three small children. It gave me enormous compassion for people who are new to a country," Moreno says. "I always knew I was going to be fighting for a cause, to be fighting for people who society wanted to throw away or give up on."
Moreno started her career helping violent male offenders reintegrate into society. She says it was a natural fit for her. "I do believe in second chances. I believe people need an opportunity to redo their lives, and that we need to establish circumstances that reduce victimization."
She went on to work for victims of domestic violence for 10 years, but it was her experience helping one particular family that convinced her she could go further.
When Moreno got the call about a Salvadoran woman with two small children trying to escape an abusive situation, it struck a strong personal chord.
"I could imagine her confusion, her fear, her trauma. Although her circumstances were different than my mother's, I knew how she would feel being somewhere alone, not speaking the language, with small children to care for," Moreno says.
This client had come to Canada on a visitor's visa to try and rebuild a relationship with her children's Canadian father. The relationship quickly deteriorated but if she tried to leave the country with her young son and daughter, she could be accused of kidnapping them.
 "Because she was a visitor with no legal standing, we had to get very creative in helping her," Moreno says, "I worked with everyone and anyone: legal aid, embassies, foreign services ministries, non-profit agencies, and women's shelters to get them home."
Moreno also spent hours bonding with the mother and children, aged four and seven.
"The complications of trauma always come out; you see its effects in behaviour, in memories. There's no escaping it. I wanted to help ease that trauma, particularly for the kids. I wanted them to know they were not alone."
And the government of El Salvador wanted Moreno to know her work was extraordinary and valued. In 2016, that country's vice-minister of foreign affairs officially recognized Moreno's efforts with an award she says helped her find the confidence to pursue a lifelong dream.
"Since I was about eight, and understood they were the ones who had helped my family relocate to Canada, I've wanted to work at the United Nations. But I knew I couldn't do that without an advanced degree," says Moreno. "Finally, my passion overcame my fear."
She enrolled in the School of Humanitarian Studies at Royal Roads University through a flexible admissions system that credits applicants with professional experience in addition to academic achievement. "RRU opened up a door that I never thought would be possible for me."
Her studies included an internship with CrimeStoppers Latin America, working on all aspects of development work—from liaising with Interpol on gang violence, to negotiating with government ministers, to advocating for policy changes that recognize the impact of trauma on victims of human trafficking. 
"It was amazing exposure to everything I could have dreamed of doing—on steroids," says Moreno, who graduated in 2020 with her Masters of Arts in Human Security and Peacebuilding. She credits her internship experience with "molding me into someone who is more confident, who believes I can achieve my goals."
While the pandemic has put a temporary hold on her international development career, Moreno continues to work as a Victims Specialist with the Edmonton Police Service, standing against the victimization of immigrants and refugees to Canada.
 "For me, it always goes back to finding the courage and compassion to help better humanity," she says. "Everything my father lived for, fought for, and died for was brought down to me. I just want my life and my work to continue to honour the opportunities my family and I were granted when we were in need."