One family, two pandemics
Topics
Featured
Share online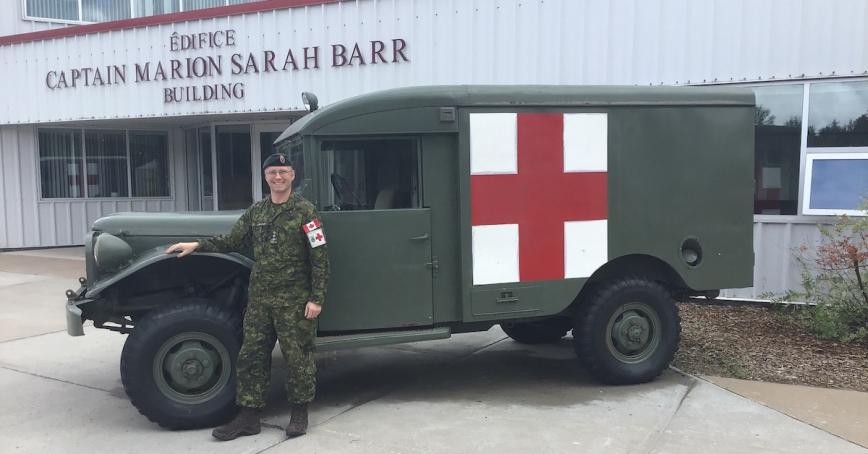 Captain Mike Gauthier always knew he'd join the military. It's in his blood, after all.
What he didn't know was his work would include responding to a worldwide pandemic—connecting him to a great-grandfather he never knew.
"[My family goes] back nearly four generations and 100 years of being in the military," Gauthier says, who is a pharmacy officer in the Canadian Armed Forces and a recent graduate of the Master of Arts in Disaster and Emergency Management program.
"My dad was career military, his dad was a pilot in World War Two, my mom's dad was paratrooper in World War Two and my great-grandfather on my dad's side was a doctor in World War One and World War Two," he says. "I kind of just fell into it."
Based at the 1 Canadian Field Hospital in Petawawa, ON, Gauthier works with a multi-disciplinary team including doctors, nurses, physiotherapists and social workers to provide care for Canadian and Allied Forces at home and overseas.
In addition to providing clinical expertise, his pharmacy team is responsible for medical inventory— keeping track of everything from tongue depressors and Tylenol to X-ray machines and surgical suites.
When the pandemic hit, the entire operation made an about-turn to expand its focus to COVID relief, launching Operation Laser, the Canadian Armed Forces' largest medical operation since the Second World War.
But adjusting to this new normal came with a unique set of challenges.
"When the field hospital goes out, typically we're looking at trauma cases coming in. Infectious disease is not something we normally look at," says the former military medic and clinical leader with more than 27 years of experience.
Part of Gauthier's role included preparing troops for the mental and emotional effects of being deployed to long-term care facilities seriously affected by the virus in Ontario and Quebec.
"It's not an environment that we train in," says Gauthier. "Many medics had never seen a casualty die. We had to prepare people for that."
Providing that kind of mental health support doesn't typically come to mind when thinking about pharmaceutical sciences.
But Gauthier never wanted a typical job.
From medical supply distribution to policy implementation to working with search and rescue technicians, Gauthier says he continues to learn on the fly.
"There's a huge variety of things we get to do so that's kind of exciting," he says. "In the pharmacy world, there's not a lot of opportunity to branch outside of drugs. I wanted to do something that's completely different, that's not therapeutics related."
It's part of what drew him to the Disaster and Emergency Management at Royal Roads—that, and his experience growing up on Vancouver Island.
"Being a medic, and growing up in Victoria where earthquake, disaster and tsunami planning are top-of-mind, the program was a natural fit," he says.
In many ways, Gauthier says he feels like he's carrying on the work his great-grandfather, Dr. John Fletcher Edis, started more than a century ago.
Captain Edis cared for evacuated troops at a hospital in England in the First World War. Soon after the war ended, he contracted the Spanish influenza during the 1918/19 pandemic, the deadliest in history. After months in hospital, he recovered and was demobilized only to re-enlist as a doctor during the Second World War and be stationed in France. A trained coroner and firefighter, Edis also ran a pharmacy in northern Ontario. 
"He was quite involved in disaster-related things," Gauthier says, also noting other similarities like their shared rank and pharmacy experience.
"Seeing the parallels between what my great-grandfather went through with a pandemic 100 years ago and what I am seeing … has been eye opening," he says. "I feel a real connection with history that goes along with it."