From North to South: A journey in learning
Topics
Featured
Share online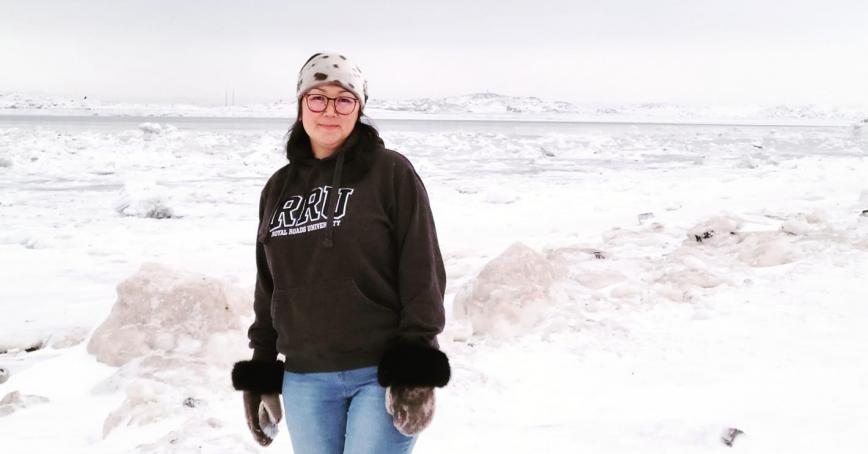 She first arrived on the Royal Roads campus at a historic and emotional time; the Government of Canada had just apologized to her people about forced relocation. As an Inuk woman, that apology was important to Elaine Uppahuak-Prusky, and so were the events that would follow as a student at RRU. 
A first-generation university graduate from both sides of her family, Uppahuak-Prusky decided a master's degree was something she wanted in life, but she didn't have an undergraduate credential. Through Royal Roads special admissions considerations, she was able to enter the Masters of Arts in Leadership program and reach her goal.
She was able to leverage her many years of experience to qualify for entry into the program she selected. Before enrolling in Royal Roads, she had 15 years of experience working with Nunavut Arctic College where she had been responsible for administration and corporate services. In the beginning of her studies, she moved on from the College to the Government of Nunavut as a director in the department of Human Resources.
While she enjoyed meeting all her classmates from all over Canada, getting to know all the staff and faculty and the beauty of the actual campus itself, what Elaine loved most was the support she received.
"Coming from an isolated community, and not being exposed to any type of college or universities until later in life, it was extremely intimidating. But the support and accommodation from the staff and faculty is phenomenal. They're there to support you and they're very down to earth and they're very welcoming," she says.
It wasn't just the faculty that made a difference to Uppahuak-Prusky; she also enjoyed learning from other members of her cohort. The lessons she learned in her time in the program were invaluable, she says.
"I learned a lot about different types of leadership and various resources.  One interest that I really had was how to apply what I learned to my everyday life, both personally and professionally," Uppahuak-Prusky shares.
Taking on a new educational challenge
She undertook her studies while working full time in a senior management role. After completing her master's degree, she has decided to take a supported education leave and continue her studies in Royal Road's Doctor of Social Sciences program.
In her new course of studies, Uppahuak-Prusky is excited to undertake research through her own lens, after watching research undertaken in Nunavut historically happen from an outside perspective.
When asked for her advice to new Indigenous students considering Royal Roads, she says, "Don't be shy or scared at all. Just do it.
"Formal learning is a lot of fun, I was able to speak and write in my own language, Inuktitut, as much as I wanted. The university is very understanding and supportive."
She arrived on campus emotional at a historic time and found comfort in the company of other learners and supportive family, friends, faculty and staff, Uppahuak-Prusky says.
Now, after completing her degree program, she's emotional for a different reason, with a new doctoral research to look forward to and new opportunities to apply her knowledge in her home territory that will support and benefit Inuit. Uppahuak-Prusky expects to complete her doctoral program in 2025. 
As part of The Tomorrow Makers campaign for Indigenous student success and research grants, we're sharing stories of Indigenous alumni who are making a difference in the world. You can help future Indigenous leaders tackle climate change, sustainability and community development for this generation and for those to come. You can be a Tomorrow Maker by supporting one today.