New West Shore campus sets solid foundation with CarbonCure Concrete
Topics
Share online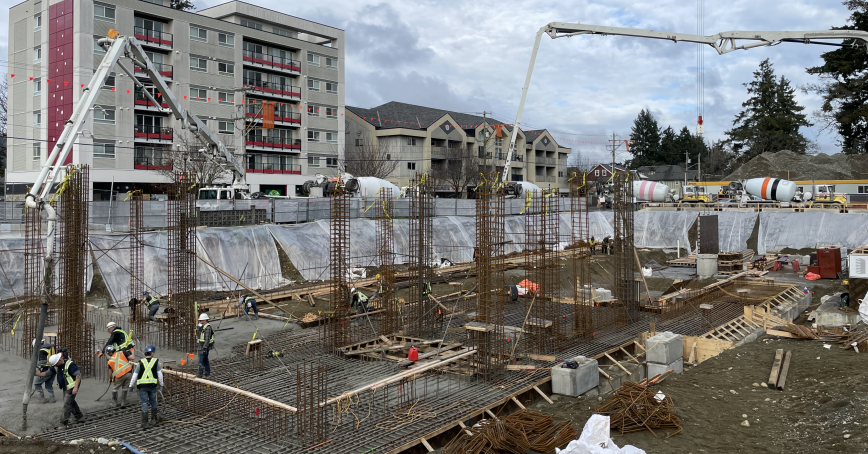 The new collaborative post-secondary West Shore campus is taking shape with a major concrete pour for its foundation using concrete made with CarbonCure Technologies,  which introduces captured carbon dioxide into fresh concrete to reduce its carbon footprint.
The first concrete pour is a key milestone in the construction of the building and represents the largest project using lower embodied carbon concrete currently under construction in Langford. The project meets the Zero Carbon Building™ Design Standard, an innovative and sustainable approach to building design within the public post-secondary sector. In addition, the building has been designed to achieve LEED® Gold certification, both standards administered by the CAGBC (Canada Green Building Council). 
Traditional concrete is one of the most carbon-intensive materials used in construction. CarbonCure uses carbon removal technologies that inject captured carbon dioxide into fresh concrete, where it immediately mineralizes and becomes permanently embedded. This carbon mineralization also boosts the concrete's compressive strength, which enables reductions in cement and its associated carbon emissions. Butler Concrete and Aggregate are the suppliers for the concrete pour, and Durwest Construction Management is the builder. 
Based on technical building modeling and factors like the use of low carbon concrete, it is anticipated that this project will achieve a 31 per cent reduction in embodied carbon.
"Just as this campus represents a bright future for students, the building itself represents the standards we need to uphold to create that future," says Philip Steenkamp, president of Royal Roads University and representing campus stakeholders. "Beginning with a foundation that has these environmental standards built in also conveys the partners' shared values of innovation, climate risk adaptation and sustainability."
From the concept plan to program delivery and on-site support, the West Shore Campus is designed for the communities it will serve. The project partners are jointly committed to increasing education inclusivity and access, developing relevant, flexible programming that creates pathways to success for students across the district.
"It's fantastic to see the construction underway as we work towards our goal of opening this new campus and making post-secondary education more accessible to students who live in the Westshore, Sooke, and beyond," said Selina Robinson, Minister of Post-Secondary Education and Future Skills. "This new campus will allow more British Columbians to get the skills and knowledge needed to land in-demand, good paying and meaningful jobs, helping to address the workforce challenges across all sectors of the economy."
University of Victoria President Kevin Hall:
"UVic is a proud partner in this project which will improve access to education across our region. It reflects our leadership in and commitment to environmental, social and institutional sustainability. From the ground up, the West Shore Campus and its programs will influence students and the community to integrate sustainability into all aspects of our lives."
 Camosun College President Dr. Lane Trotter:
"The West Shore campus will provide a strong foundation for students in their future post-secondary studies. Today's concrete pour is an important milestone as we build future skills for students in the West Shore."
Langford Mayor Scott Goodmanson:
"As the City continues to grow, this urban campus will complement the vision for a modern Langford and serve students and residents from all West Shore communities. On behalf of City of Langford Council, we are pleased to see Langford's Low Carbon Concrete Policy at work in such a significant project, helping to reduce emissions and reinforcing the City's commitment to climate action."  
Sooke School District Vice Chair Amanda Dowhy:
"Today ushers in an exciting new chapter for students and future students in the Sooke School District. Access to a collaborative post-secondary campus in our own backyard offers our students a viable path to higher learning that seeks to remove barriers and encourages them to start planning for tomorrow."
Justice Institute of British Columbia President Michel Tarko:
"JIBC is pleased to be part of this significant, environmentally sustainable project which will help make our programs more accessible to students in the region. This will not only provide us with purpose-built facilities for our training needs but the opportunity to facilitate an increase in the number of public safety professionals on Vancouver Island."