An MBA plus? Grad touts value of management consulting program
Topics
Featured
Share online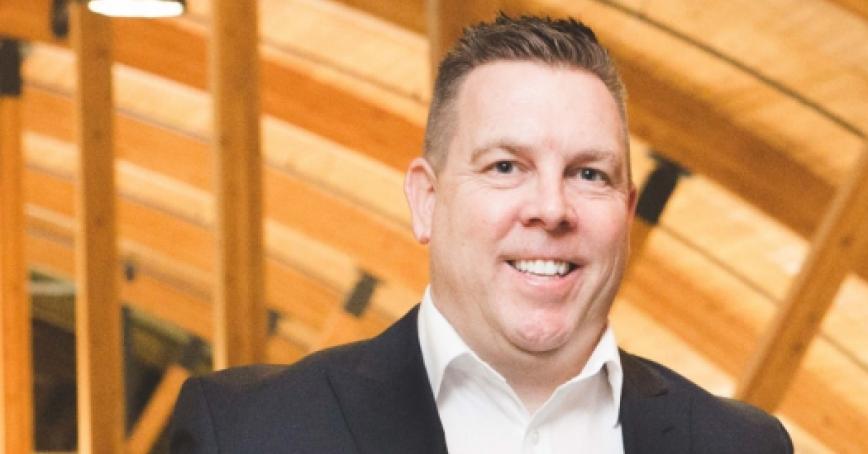 When James Grieve returned to university in 2010, he wanted to distinguish himself from the crowd of business school graduates in BC. What better way, he reasoned, than by filling unrecognized needs in his local business community in the Okanagan, and beyond? But where to start?
The Baby Boomers gave him an idea. And a specialization offered by Royal Roads University's Master of Business Administration (MBA) in Executive Management gave him the opportunity.
"We are on the verge of the largest transfer of wealth in human history, with the Boomers retiring, but a lot of these business owners don't have a plan for succession," says Grieve.
He decided to pursue a Royal Roads MBA with a specialization in management consulting.
"And as a result my studies and research, I discovered there was a need for a consultant that brings all the key players and stakeholders together," he says.
The management consulting specialization offers within the program the full academic requirements for earning a Certified Management Consultant credential with the Canadian Association of Management Consultants (CMC-Canada). A student achieves full certification after submitting an experience portfolio and passing an interview with CMC-Canada.
Grieve is one of more than 85 MBA grads who achieved a Certified Management Consultant credential as part of their studies at Royal Roads since 2002.
"The specialization is a real success story for our students," says School of Business Assoc. Prof. Mike Thompson, who is academic lead of the specialization program. "It provides an innovative alternative to their previous career path and allows them to navigate those demanding and complex 'forks in the road' that we all invariably encounter.

"Graduates are able to provide advice and expertise from their storehouse of knowledge and experience, and apply it to help others formulate and execute strategy to meet their organizational challenges," Thompson says.
Grieve, who also holds a Bachelor of Commerce (2008) and a Graduate Certificate in Organization Design and Development (2019) from Royal Roads, says the Certified Management Consultant credential has helped him immensely as he established his consulting career.
"I would say it was a turning point in my career, this designation and MBA," he says. "When you apply for contracts in the marketplace, they often call for the CMC designation. It opened those opportunities for me."
More than six years after graduation and certification, Grieve is the owner and partner in two management consulting firms in Kelowna: Catalyst Strategies Consulting, which helps small and medium-sized businesses create and implement business strategies, and Build 4 Value, his succession planning practice. Both are booming.
"Through CMC certification, I have great partners who are also consultants," he says. "High water raises all boats — you work with people who make you better. It's such a great peer network."
His advice to future students: get the "bonus" of a professional certification with your degree.
"I recommend the program highly. I wouldn't have the perspective on how to scale and systemize and build my practices without my CMC and MBA knowledge," he says.