Making mine rescue women's work
Topics
Featured
Share online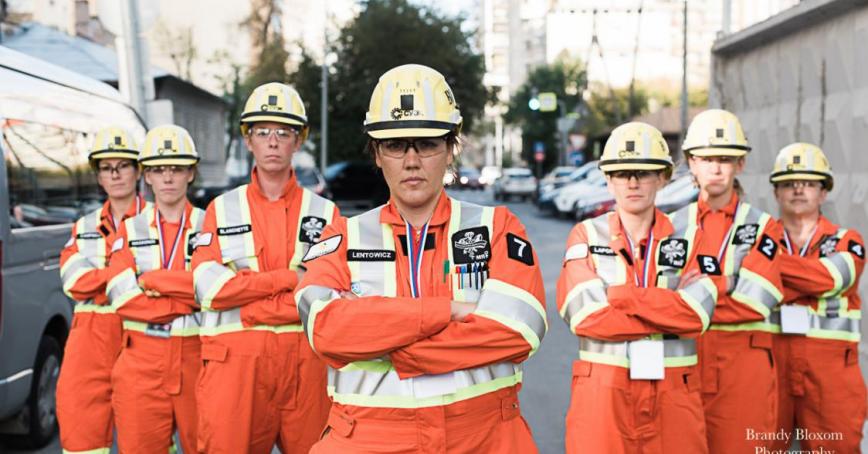 Once she had earned bachelor's and master's degrees, excelled in the male-dominated world of mining, started a consulting business and run a non-profit, you might think Kari Lentowicz would take a rest.
But you'd be wrong.
The Saskatchewan resident also launched Diamonds in the Rough (DITR) with colleagues Bruce Coley and Randy De Cecco. The project identifies women in Canada who are trained for mine rescue, then brings them together and coaches them so they can take part in rescue competitions at home and abroad, helping advance their careers while promoting the hiring of women in mines.
Diamonds in the Rough was 11 years in the making, Lentowicz says, noting that at one international mine rescue competition in Sudbury, Ont. in 2016, just five of 189 competitors were women. But there was a female team captain there — Heather Willis — which gave Lentowicz confidence she would eventually be able to put together an all-woman squad of her own.
In 2018, she took just such a team to a competition in Yekaterinburg, Russia, which was one of the seven countries represented that prohibit women from working in mines.
Mine rescue competitions, she explains, commonly have a number of challenges: a first aid problem; a casualty incident where rescuers have to prioritize and treat "patients" — from a "mine blast" situation or electrocution, for example; a firefighting task; and some sort of underground problem
The DITR squad — which had trained together for just four days and included members who had never competed in mine rescue — placed 15th out of 25 teams overall and fifth in the underground portion of the competition, she says, besting the host nation as well as Australia, China and another Canadian team.
"At first when we got there, we were kind of treated like a novelty," Lentowicz recalls. "But by the end of it, everybody was like, 'Yeah, women can to it. You know exactly what you're doing. You can definitely pull your weight and do exactly what the men can do.'"
In fact, she says, the Russians were their biggest cheerleaders.
"When we were done there, we thought, 'We've got to keep this going'… to raise the profile of women in one of the oldest boys' clubs that there is in mining."
Lentowicz has built her own profile in the industry over many years. A member of Peter Ballantyne Cree Nation who has lived most of her life on Treaty 10 territory in northeast Saskatchewan, about 20 km from Flin Flon, Man., she grew up around mining, working summers doing environmental work — water sampling, planting trees, etc. — while attending university. She earned a Bachelor of Science in toxicology from the University of Saskatchewan, a masters certificate in project management from the Edwards School of Business in Saskatoon and, most recently, a Master of Arts in Disaster and Emergency Management (MADEM) at Royal Roads University.
The MADEM program was ideal for her, she says, noting the experience benefited her own business, KLEMQ Consulting, which provides services in emergency, environmental and project management. She says one key was the cohort in the blended program (online education plus three on-campus intensives).
"You've got people from all different professions taking this," Lentowicz says. "It really builds your skillset and gives you a different understanding of the different challenges you might face, at some point, depending on what you're doing in disaster and emergency management."
It also builds confidence, just as DITR builds confidence and leadership capabilities among its team members, pushing them to speak up and rise through the ranks of the mining industry.
And Lentowicz isn't stopping there. Although DITR didn't train in 2020 or this year due to the pandemic, next year she hopes to train a team and take it to whatever competitions are available. And within five years, she's aiming to form an all-Indigenous female team to compete — and to provide role models for the next generation.