Looking under the hood of Jason Kenney's iconic campaign truck
Topics
Featured
Share online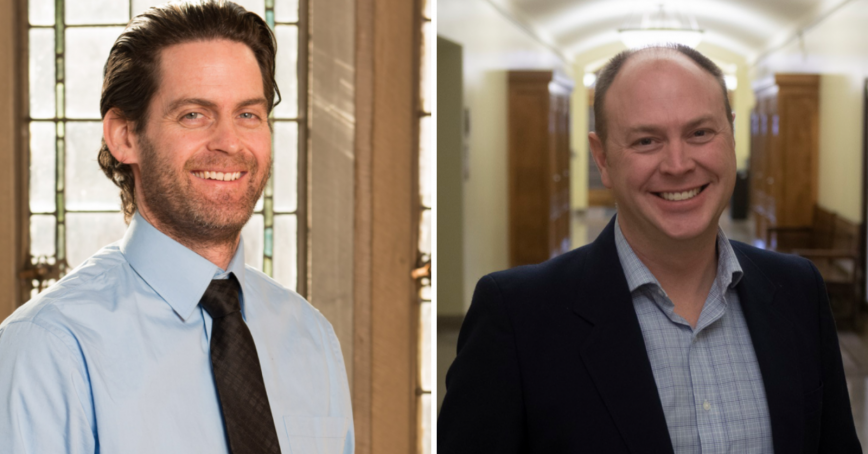 What is the symbolism behind Alberta Premier Jason Kenney's big blue campaign truck? A pair of Royal Roads faculty members co-authored a chapter revealing their findings about the signature campaign vehicle in a new book about Alberta politics.
Chaseten Remillard, associate professor with the RRU's School of Communication and Culture, and Tyler Nagel, associate faculty, Bachelor of Arts in Professional Communication program, suggest the Dodge Ram 1500 Kenney steered during his leadership campaign, beginning in 2016, then again for the provincial election in 2019 was the perfect vehicle for victory in "Wild Rose Country."
"There's a long-standing resentment, a feeling that Alberta isn't getting its fair share and is being used for its resources. So, I think Alberta tends to adopt a political ideology that sets itself apart, whether that confirms its identity or whether that's in response to an identity that already exists," says Nagel, also a full-time instructor in the Journalism Faculty at Southern Alberta Institute of Technology (SAIT) in Calgary.
Their chapter focuses on the idea of Kenney leveraging Alberta exceptionalism through the symbol of the blue truck.
A party united
Kenney won the United Conservative Party (UCP) leadership in 2017, uniting the Alberta Progressive Conservative and Wildrose parties under one banner, and defeated the NDP under Rachel Notley in 2019. During both campaigns, Kenney drove around the province, greeting constituents, in the blue truck.
"So the truck served him twice," says Nagel.
Duane Bratt, a professor of political science at Mount Royal University, approached Remillard and Nagel to write a chapter for his new book about how visual communication symbolizes a variety of different Albertan identities. Remillard had worked with Bratt on a previous book,  Orange Chinook: Politics in the New Alberta, published in early 2019.
"It was it was meant to be a chapter that complemented the others, but that had a slightly different focus than the more politically oriented chapters in the book," Nagel says.
He and Remillard analyzed the visual messaging from the Kenney government, from wildfires to pipelines to the truck. 
"The blue truck kind of stood for everything," Nagel adds. "It's probably the most powerful symbol of Kenney and the UCP government," representing a series of neo-liberal populist myths about Alberta.
What a truck represents
"We've got the myth of Albertan sovereignty, which the truck represents, through adding a provision of autonomy, that you are your own driver, that you can go where you want to go because it's an individualistic vehicle that's extremely capable of travelling across all sorts of terrain," Nagel says.
"We've got the idea of Alberta and populist homogeneity, the idea that the rural Albertan — or the true Albertan — is a monolithic, homogeneous identity, that they all drive trucks, that they all ranch, that they all wear boots, whereas Alberta, in truth, is quite diverse."
In Alberta, 86 per cent of new vehicles sold are trucks, higher than the Canadian average. 
"We also see it leveraging the myth of sort of grassroots independence, where, if you have a truck, you need to rely less on your neighbours, you need to rely less on charity and you have greater ability to do your own thing," says Nagel. "It was the perfect vehicle."
They also looked at policy decisions, as the UCP government diverged several times from values associated with the blue truck.
The most polarizing was the pandemic.
Steering away from Kenney
Kenney was slow to implement COVID-19 restrictions and fast to rescind them, they wrote. Churches and small businesses flouted the rules. Deaths mounted and hospitals filled.
The UCP government offered a one-time $100 incentive to Albertans to get COVID-19 vaccine shots.
But right-wing voters started to turn on Kenney.
Remillard and Nagel propose that with each policy reversal, Kenney's license to drive the blue truck eroded.
He rolled it out again this past July, to promote Alberta's "Open for Summer" message, and made the truck his Twitter profile picture. But Kenney removed the picture in September, when COVID deaths surged.
While the truck may be parked for now, Remillard expects to see it again, even if Kenney is no longer driving it.
"Someone else probably will step into that truck because that uncompromising narrative exists beyond that notion of a central government in Alberta and Kenney is having that follow him right now," he adds, referencing the struggles Alberta has had managing the pandemic.
"He's trying to manage the fact that that there's a huge number of people who don't believe in him anymore either," Remillard says. "So part of what we talked about, as well, was that the truck was there before Kenney and the truck will be there after Kenney."
The book is called The Blue Storm and is expected to be published this year.