The long winding road: RRU graduate builds business for motorcyclists
Topics
Featured
Share online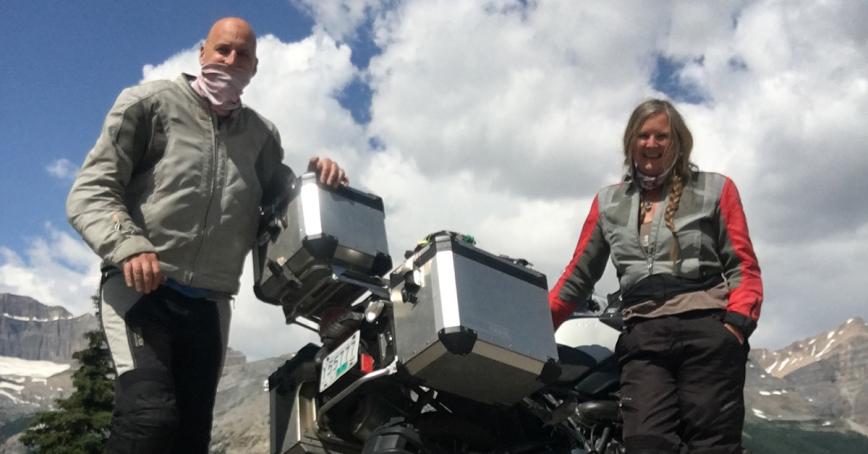 When Andreas Gneist takes his BMW GSA 1200 touring motorcycle for a long trip, he often faces decisions: left or right, the quick route or the long, scenic route, keep on riding or stop for the night.
As co-owner of Motorcycle Offsetters, he has faced other types of decisions related to the business: which companies to partner with, how hard to push the environmental angle, how best to market its core services.
For the graduate of Royal Roads University's Master of Global Management (MGM) program, the year or so since the company launched has proved to be both a learning experience and an adventure.
A native of Berlin, Germany who held corporate finance and accounting jobs around the world, Gneist started Motorcycle Offsetters with his wife, Carolann Gneist, after they moved to BC because they experienced the effects of wildfires in the province's north and the Interior.
"I have always been a high-mileage rider and a very keen motorcyclist. I can no longer do it without thinking of my CO2 footprint," Gneist said last year. Seeing and smelling the wildfire smoke was "a trigger event" that prompted him to call a carbon offsetting company to pay to offset from riding his bike.
He then wondered, "How many others out there think like me and might be interested in such a thing?"
With his MGM learning about sustainability and corporate responsibility fresh in his mind, he and Carolann Gneist created Motorcycle Offsetters to allow riders like themselves to buy carbon offsets, to make up for the carbon sent into the atmosphere by their fossil fuel-powered two-wheelers. A year ago, besides selling offsets, the company also intended to sign up members and partner with companies to offer discounts on products such as motorcycling clothing, insurance and boutique hotels that cater to motorcyclists.
Now, Gneist says, the horizon has expanded. He has connected with adventure companies, motorcycle gear manufacturers and motorcycle clubs.
He has found that the biggest challenge isn't financial but philosophical. "As with many other new product market introductions, there's lots of interest but, before committing, some potential customers would first rather see how others react," Gneist says.
He notes that some potential North American partners are afraid of alienating old-school members who don't want to hear about climate change or consider the effects of their riding. And manufacturers are hesitant to acknowledge that their products can have negative environmental effects.
"We all agree — I and potential customers agree — it's not money that's the big thing because the amounts are very, very low," Gneist says. "The issue is really, do the potential future customers that I have want to jump on this bandwagon and be depicted as a trailblazer or would they rather play it safe and follow when it really can no longer be avoided?
"It's very hard to stay out of politics and polarization," he says, noting the company's marketing activities avoid politically charged terminology, focusing instead on positive images associated with climate action such as fighting wildfires and dealing with droughts and floods. The message is directed at customers willing to take action and the company aims to connect them with an easy way to do so.
Although he's finished at Royal Roads, Gneist says he continues to consult William Holmes, an RRU associate professor whom he got to know while studying at the school. Motorcycle Offsetters has also benefited from social media and marketing input of students in the federal government's Venture For Canada initiative, which provides learning experience by placing them with companies such as Gneist's.
With all that expert advice as well as his own lifetime on two wheels — including a fully offset trip this summer from London, UK to Berlin — Gneist knows there are many roads to travel with his company.
How Motorcycle Offsetters works
First steps: A motorcycle rider goes to the website, clicks on Purchase Offsets, then enters information about their bike — make, model, year — and how many kilometres they ride and want to offset. Riders then choose the amount of offsets at or above their estimated carbon output. When buying more CO2 offsets than they emit, their motorcycle riding becomes not just carbon-neutral, but carbon-negative. Riders can see their "investment" in carbon negativity in a corresponding gauge that's fashioned like a tachometer.
Cost: A test run that included entering a random, medium-powered bike showed, for 5,000 km of riding, the cost to offset 100 per cent of the carbon output cost less than $30.
Where does the money go?: Motorcycle Offsetters resells offsets from three projects by Carbonzero. Those projects are: the Newfoundland Climate and Ecosystems Conservancy Project, "a greenhouse gas-mitigation initiative through engineered wetland systems for wastewater treatment;" the Niagara Escarpment Forest Carbon Project, which "promotes and maintains forest cover, ecosystem function, protection of rare species, biodiversity, and geological features in their natural condition;" and the Afognak Forest Carbon Project in Alaska, which "has preserved large tracts of undisturbed native trees (180 to 250 years old) as well as regenerated tree growth."