An invitation to transformation and education
Topics
Featured
Share online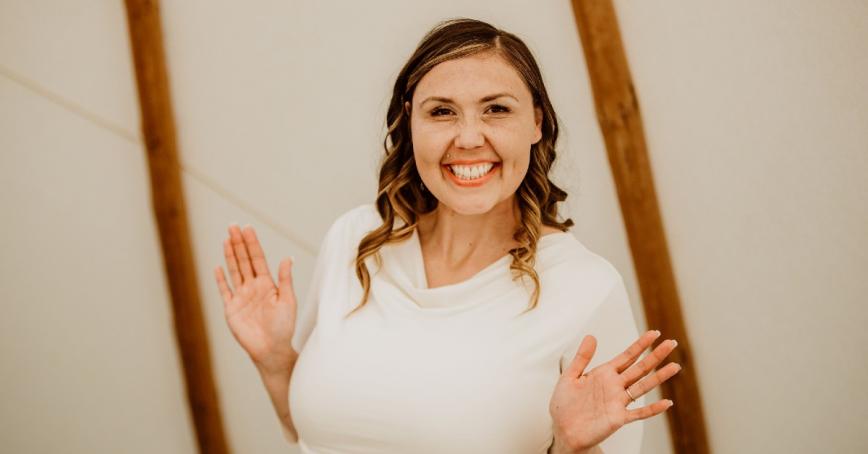 "I would like to be remembered for providing a pathway for all Canadians to learn about our shared history in a way that's accessible, and with compassion, and allows us to shift our thinking about each other," Chastity Davis-Alphonse says, when asked how she would like to be remembered by history. She is preparing the launch of Deyen, a digital learning hub whose first modules will honour Indigenous women throughout history. Her husband, Tsilhqot'in Tribal Chair and Tl'etinqox Government Chief Joe Alphonse, will be an opening speaker at the event. 
Learning and acquiring knowledge is a process that Chastity has held dear, pursuing two Royal Roads degrees, a Bachelor of Arts in Professional Communications and Master of Arts in Intercultural and International Communication. Chastity credits what she learned as being part of how she has been successful in her mission in the world. 
"University education has given me inner knowing or confidence that I'm carrying my work out in a good way and given me the skills to be able to write and connect our knowledge to the mainstream in a way that invites people in and is inclusive of learning about our shared history and who we are as Indigenous people," says Davis-Alphonse. That coming together is part of Reconciliation.
From Tla'amin (known also as Sliammon), Chastity is a mixed-heritage Indigenous woman activist, advocate, and Reconciliation Practitioner. She has a consulting business, and a strong desire to share the wisdom, worldview, knowledge, and lived experiences of Indigenous women with all Canadians who would like the opportunity to learn and unlearn.
While the invitation she is extending is to a virtual launch, it runs much deeper than that.
"We're inviting people into this space to learn from Indigenous women, their traditional knowledge, their stories, their ways of being and knowing that has been invisible on their own lands they've lived on for thousands of years. Let's go inside and accept the invitation to transform and connect with our ancient knowledge and wisdom." 
Colonization flipped power structures and perspectives on the value of Indigenous people and their traditions, she says. "Matriarchal leadership has been here on these traditional lands for thousands of years. And then [there was] this recent 150 plus year blip of colonial history. All of that knowledge of our matriarchs and our people is still within us as Indigenous peoples, still within our blood memory, and still on the land. It's still all there. It's just invisible. It hasn't gone anywhere." 
She speaks of the colonial narratives, labels and stereotypes so often applied to Indigenous women that can obscure the joy, resilience and strength Indigenous women embody.
"The dominant narrative here, unfortunately, and a lot of what we hear and learn subtly and overtly about Indigenous women is negative. We're broken, unfortunate trauma ridden souls that are unfit mothers, drunks, lazy, drug addicted, uncivilized, savage."
Davis-Alphonse is on a mission to correct that, noting, "My experience in the world as a mixed heritage Indigenous woman, and being around Indigenous women and coming from a strong, matriarchal lineage is that's not the correct narrative." 
When asked to describe what Reconciliation means to her, Davis-Alphonse says, "It's a journey, a process and it's hard work. It is the greatest opportunity facing every single Canadian, in this time and place, the opportunity of committing to shifting relationships and being in right relationships with the First Peoples of these lands."
She takes her inspiration from Chief Robert Joseph's depiction of Reconciliation as love.
"When I think about the Indian Act, and colonization and all of the things that have happened on these lands since the settlers came, I think 'what was absent?' It's love. There is no love in those colonial policies. There is no love in the Indian Act, there was no love in residential and Indian day schools and Indian hospitals and all these things." 
As for what she is hoping to bring to life with the Deyen launch, Davis-Alphonse says she wants to share inspiration.  
"I would like people to walk away inspired to learn from and with Indigenous women. We have so much knowledge and wisdom we all carry. There's so much that we have to contribute to society. I hope people are inspired by that, and inspired to commit, if they haven't already, to a journey of Reconciliation through learning from the original matriarchs of these lands."
Deyen launches April 1, 2021; join in and register here.