Dream career blooms for Royal Roads MBA grad on Sunshine Coast
Topics
Featured
Share online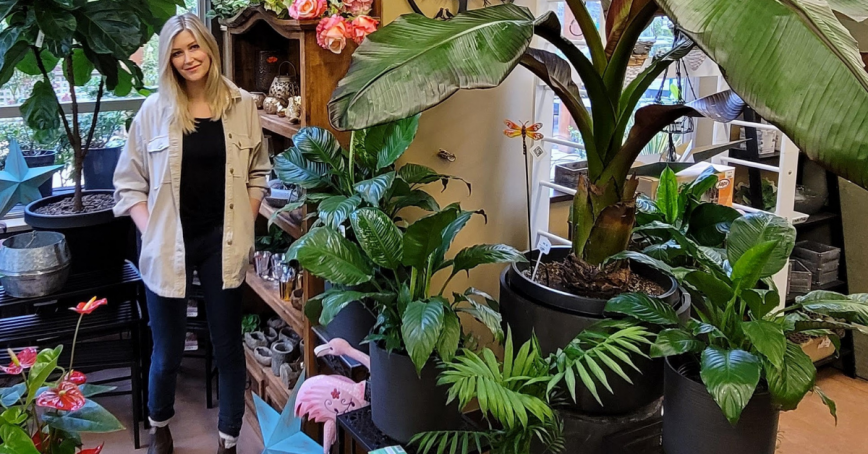 Sarah Clark turned over her life, leaving a secure job in the corporate communications world to nurture a garden and landscape supply business on the Sunshine Coast. And she's never been happier, or busier, thanks, in part, to Royal Roads University.
Clark graduated with a Master of Business Administration in Executive Management in November 2020 and by February 2021, she bought B&K Garden and Landscape Supply in Gibsons with her partner and his parents, using the leadership, analytical and management skills she learned at RRU to run the operation.
Clark thought her career path was set after graduating from BCIT with a graphic design certificate while working in creative communications roles at BC Hydro, then Telus, both among the top employers in BC. She also volunteered with organizations such as the Crisis Intervention and Suicide Prevention Centre of British Columbia and YES Vancouver.
Clark was living in Yaletown and walking to work at Telus, where she had become senior marketing communications manager, when she decided to branch out.
She was already having doubts about spending the rest of her professional career rooted at a desk, staring at a computer screen all day when the pandemic forced her to work from home.
Then she bought a fiddle leaf fig, then another plant, and another.
New routine
Clark developed a morning routine, watering and caring for what grew to a collection of 70 household plants in her 1,200 sq. foot apartment. She found it therapeutic. Clark had little prior gardening experience but caring for her plants helped her realize what she wanted to do with her life.
"I was ready for a change from the corporate world," she says. "I wanted desperately to be outside, connected to nature and interacting with people more."
Through conversations with friends, colleagues and mentors, Clark found Royal Roads. She liked the blended option and was able to take part in the first residency. However, because of COVID-19, she completed the rest of her degree online.
"I also liked that the program length was 18 months versus two years like most other programs," she added.
Going to Royal Roads was also like going home for Clark, who grew up in Nanaimo.
"It felt fitting to do an island-based program."
Clark and her partner Jamie had bought a vacation home, a fixer-upper, in Gibsons the year prior. They planned to spend time-off there and rent it out. While going to Gibsons on weekends to work on the home, Clark says they fell in love with the community. Jamie then showed her the sale listing for the garden centre.
Hot spot
They live in a house above the garden centre, for now. Clark says Gibsons became a realty hot spot during the pandemic and there are few properties listed for sale at the moment. Such demand, though, is good for business, as homeowners look for plants and landscape materials.
The garden centre sells soil, mulch, sand, gravel and stones, as well as plants, tools, decor and pottery. Clark does all the purchasing and marketing, in addition to the bookkeeping, as well as helping customers in the garden centre.
She left Telus to focus on ficuses full-time. She knows it was a risk.
"But I think buying a business and having that fail because I was focused on my corporate job would be a bigger risk."
'No regrets'
She has little time for herself these days, so the time management skills she sharpened at RRU are helping.
"I feel like juggling the MBA and a full-time job really improved my ability to manage priorities," Clark says over voices emanating from her walkie-talkie.
She's already ordering pumpkins and Christmas trees, as well as stock for next spring.
"The pandemic has made things really challenging in this industry ordering-wise. You've got to secure a lot of your product up to a year in advance."
There's more demand than supply, which she says is a great problem for garden centres to have, but a problem nonetheless.
When faced with such challenges, she's reminded of a saying she picked up in the MBA program - to trust the process.
"It's an inspiring business to be in, and every day I wake up feeling grateful that I get to put my all into doing something I love that combines my passions for business and nature," she says. "And the MBA was a huge part of helping build the skills and the confidence to do this."
Clark feels fulfilled by her new career and is excited for the future.
"Absolutely no regrets."