A credit (worthy) union: eLeadership Academy, RRU team up
Topics
Featured
Share online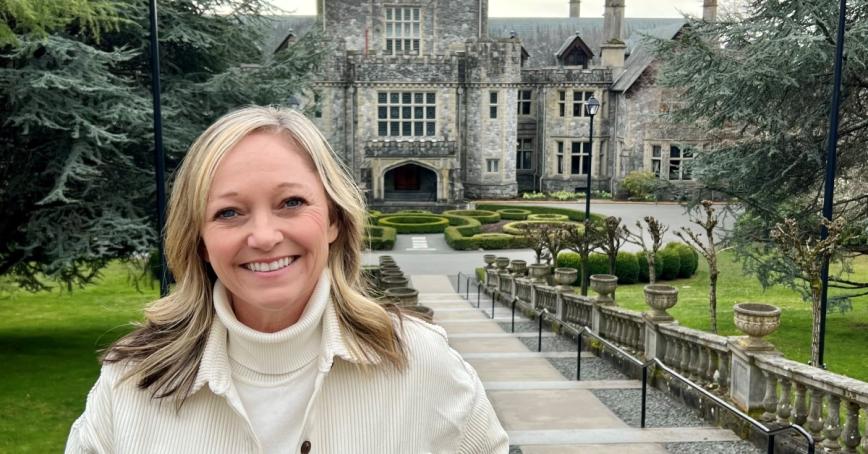 Sandra McDowell has two professional passions: credit unions and leadership. Her passion for the former has led to a passion for helping others to develop their skills in the latter. 
Now, she'll take these passions to the next level through an innovative collaboration with Royal Roads University.
McDowell, CEO of eLeadership Academy and a graduate of RRU's Master of Arts In Leadership and Graduate Certificate in Executive Coaching programs, recently partnered with the university's Professional and Continuing Studies department to offer a leadership and coaching designation for credit union leaders. The program will launch in the fall of 2023, with the first classes starting in January 2024. The Credit Union Leadership and Coaching designation is open to those who have completed a Certificate in Applied Leadership through eLeadership Academy.
"I have chosen to offer our programs exclusively to credit unions because I am passionate about the difference they make to advance financial wellness in the communities they operate," says McDowell, who worked more than 20 years within the credit union system, including as head of people & culture, COO and acting CEO.  
"Although my work to develop leaders started at one credit union, it extends now to all credit unions," she says. "They are a force for good and that, to me, is a cause worth fighting for."
McDowell understands the value of great leadership education from her own experience. 
Earlier in her career, she won a national and international young leader award within the credit union system and says, "I felt very much like an imposter winning these awards when I felt as though I couldn't even explain leadership to others. So, I decided to further my education in this area."
That's where Royal Roads came in. She completed her master's in 2010 then, the next year, earned a graduate certificate in executive coaching. 
"Although my work to develop leaders started at one credit union, it extends now to all credit unions. They are a force for good and that, to me, is a cause worth fighting for."
And it was a quotation she heard early in her time at RRU that set her on her current path: "Cheating in a learning organization is having knowledge and not sharing it."
"That was a lightbulb moment for me, as the more I started to learn, the more I felt like I was cheating by not sharing it. So, I just started teaching it back to whoever would listen," she says. "I learned so many things through my studies that I wished I had learned earlier in my career, I felt compelled to share the information to help others grow sooner rather than later."
She started eLeadership Academy over a decade ago, inspired by her RRU education and studies in neuroscience at the NeuroLeadership Institute, and calls the new partnership between her company and her alma mater a full-circle moment. 
Zoë MacLeod, Royal Roads' associate vice-president, Professional and Continuing Studies, said she's keen to launch the program and excited to be working with RRU alumni.
"It is rewarding to collaborate with Sandra on this new designation," MacLeod says. "She brings vast and varied experience in credit unions as well as her education and practice in leadership and leadership training. 
"This was such a natural fit because Sandra started her formal leadership journey with Royal Roads and now, she's paying it forward to a new generation of credit union leaders," she says, noting RRU is always looking for opportunities to collaborate with industry to provide training, micro-credentials and certifications. 
McDowell is just as pleased, saying, "I've always kept connected to Royal Roads as an alumna because I love it. I believe the slogan is 'life-changing' and from personal experience, I can say they deliver on that."
She's especially appreciative of RRU's cohort learning model, something she uses in her own courses.
"When it comes to cohort-based learning," she explains, "we learn better with other humans because it brings learning to life. We learn and build on each other's stories."
---
We always want to hear stories about the people, programs and places that are the Royal Roads experience. Share yours via the RRU Story Exchange and it could be featured on our web site and social media.