Celebration on the Water: connecting together
Topics
Share online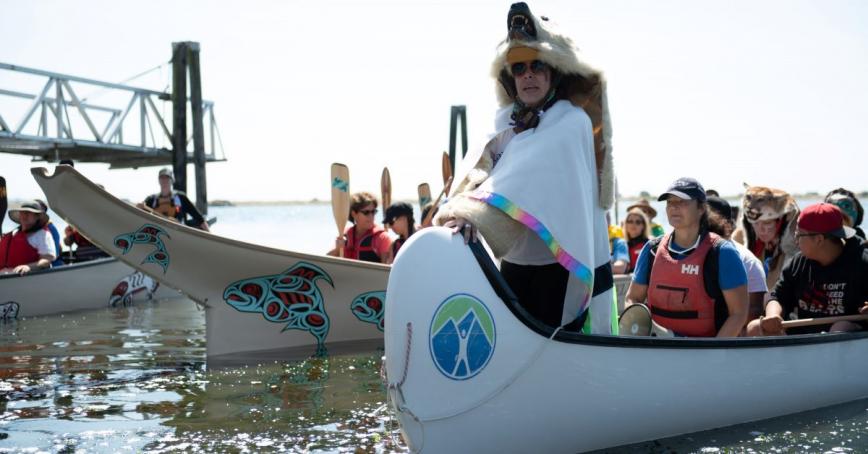 On June 21 each year, National Indigenous Peoples Day is celebrated at Royal Roads University. The roots of the celebrations are grounded in traditional cultural practices, from when waterways around Vancouver Island were the roadways between communities. Families would travel by canoe and wait to be greeted from the shores of the community they were wishing to visit.
Asma-na-hi Antoine, director of Indigenous engagement who leads this event annually, describes what that would look like for her family historically:
"Once seen, my family from Toquaht Bay would wait, and the speaker of the family would introduce themselves and state their purpose and intention of why they were traveling and what they needed from the Teechamitsa families and possibly the land, Mother Earth and water. If the Chief of the community thought they could provide and trust my family's visit, they would welcome them to the shore. My family would have docked on the shores, and the Teechamitsa family would host. My family knew they wouldn't take more than they needed, and the family onshore would host, sharing knowledge, teachings, shelter, food, medicines etcetera to ensure their guests were well taken care of."
Mutual respect guided the experience for hosts and guests, and when guests had what they needed and were well rested, they would return home and share about their experiences and how kindly they had been treated. Likewise, within the community, the hosts would share about their gracious guests who took only what they needed from the resources of the host family, the community and the local environment.
This same process was followed as part of the "Paddle to Seattle" Tribal Journeys, which happened as part of the centennial anniversary of Washington's statehood and included celebrations for the nations in the Pacific Northwest Coast in 1989. It's also what was adopted at Royal Roads University and included in  past celebrations.
NIPD on Royal Roads University Campus first included just five audience members and ten drummers, singers and dances in 2013 and has grown from year to year. Three years later, Vancouver Island presidents were invited by Elder Butch Dick to join a canoe challenge as part of the festivities, which included the Canoe Landing Protocol Practice. The Ministry of Indigenous Relations and Reconciliation joined the university for this special occasion in 2017 and the practice of building bridges with communities and partners has expanded since then.
This year, Royal Roads is proud to partner with Songhees Nation, Esquimalt Nation, Camosun College, Fernwood Neighbourhood Resource Group Society (Fernwood NRG), Hulitan Family & Community Services Society, Indigenous Perspectives Society Centre of Excellence in Community Education (IPS), Island Métis Family & Community Services Society, Indigenous Sport, Physical Activity & Recreation Council (I·SPARC), M'akola Housing Society, Métis Nation of Greater Victoria, Ministry of Indigenous Relations and Reconciliation, Ocean Spirit Canoe Family, Power To Be, Ecole Shoreline Community Middle School, Sooke Family Resource Society, Sooke School District, UVIC, Vancity, Victoria Native Friendship Centre and West Shore Parks & Recreation.
This National Indigenous Peoples Day, Indigenous cultures, languages, arts, resilience and strength are being celebrated on the water, just as they have been since time immemorial through the practices of local Indigenous communities. Everyone is welcome to view and experience the Canoe Landing Protocol Practice on this special day on campus, building bridges and connecting on the water once more.
Royal Roads University acknowledges that the campus is on the Lands of the Xwsepsum (Esquimalt) and Lekwungen (Songhees) ancestors and families. With gratitude, we live, work and learn here where the past, present, and future of Indigenous and non-Indigenous students, faculty and staff come together.
See the full schedule of events for National Indigenous Peoples Day at Royal Roads. Join us in person or watch the livestream.