Career-enhancing DBA paying off for student
Topics
Featured
Share online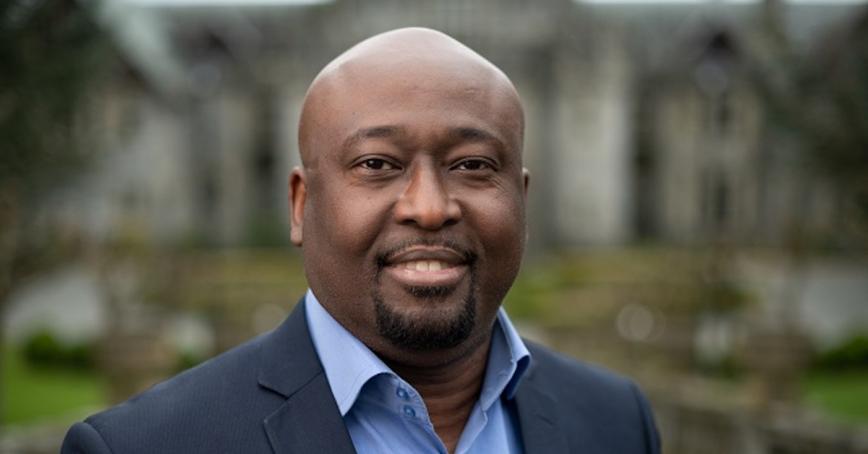 Just one year in, the Royal Roads University's new Doctor of Business Administration program is already paying career benefits for Nkem Onyegbula.
Onyegbula credits his enrolment in the program for his recent appointment to the Real Estate Council of Alberta. Onyegbula, who has a thriving management consultancy business, CYNKON Inc, looks forward to the opportunity to have a major impact on the real estate industry, specifically to help create new rules and industry requirements for mortgage brokers operating in Alberta.
"When I was interviewed, they were very excited to see that I was going that far in my field," says Onyegbula.
He also feels that his expertise in stakeholder engagement, an area that will be part of his research studies, will be indispensable to the council given direction from the Alberta provincial government on overall industry standards, rules and education.
A self-described lifelong learner, Onyegbula has his Master of Business Administration from the University of Tampa and always intended to go further in his learning. He researched business schools around the world and chose Royal Roads because of its unique emphasis on practitioner research aimed at solving real and complex business and workplace problems.
"That was my attraction to the program. PhD programs are primarily focused around academia and academia is not my core interest, I just want to better my skills to serve my clients."
Those comments echo the observations of Dr. Ajnesh Prasad, Canada Research Chair, who will be supervising Onyegbula's doctoral dissertation. The DBA program brought in 12 students in its first cohort, and each student will work on their own dissertation as part of their degree program.
"Their projects come from their personal and work experiences. These are students who have done very well in their careers. They see a problem at work that has troubled them, want to understand what is going on, and find solutions," says Prasad. Many fully intend to stay with their current employers, though make their organizations stronger with the skills they develop in this program."
But taking on extra studies is a significant time commitment for professionals like Onyegbula, who delivers business strategy and change management services to private and public-sector clients through his company.
"RRU understands that we are senior practitioners with families. When you interact with your professors they are extremely flexible."
Early into the program Onyegbula recognized the opportunity to expand his research beyond his core area of expertise and help organizations survive in the post-pandemic environment.
"COVID-19 has triggered my interest on how organizations have to position themselves to survive in this environment," says Onyegbula whose current practice is largely focused on companies wanting to implement IT systems and the behavioural economics around how employees are motivated to adopt those systems.
Prasad, says that Onyegbula has come to the program with an impressive "willingness and open mindedness to learn new things. He has the most positive outlook, and it is making this an enjoyable experience for a supervisor."
--
Royal Roads will host its first doctoral conference from Aug. 20 to 22, 2021, focused on socially engaged applied doctoral research in Canada. Submissions are now open for papers from doctoral students and extended abstracts from supervisors and faculty members. Doctoral students at any phase of their research and doctoral supervisors and faculty interested in discussing doctoral scholarship and supervision can attend.