Are you non-racist or are you anti-racist? There's a big difference
Topics
Featured
Share online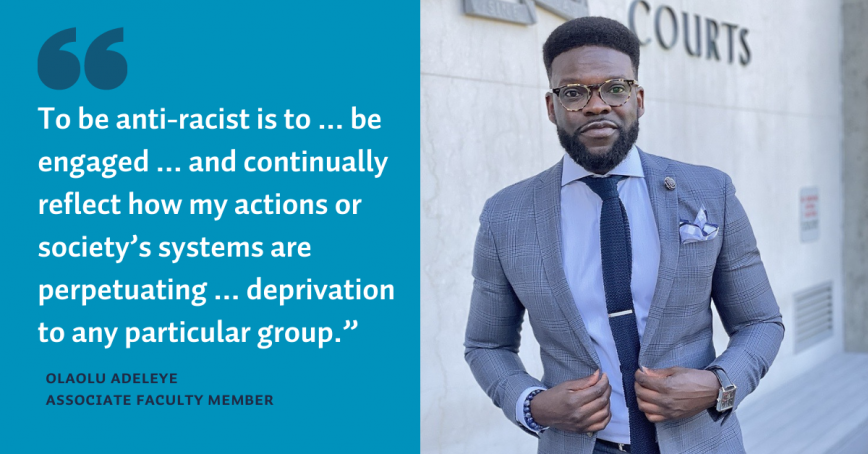 "Dialogue is everything."
Olaolu Adeleye is explaining the purpose of the Book Club Hub he helped design for BCcampus, which supports the province's post-secondary instructors, and the selection of the book How to Be an Antiracist by American author and historian Ibram X. Kendi.
The goal, he says, wasn't to do a chapter-by-chapter study of the acclaimed bestseller, but to use it as a starting point for discussion on how each hub participant could change themselves, and the places they live and work, to be anti-racist. Indeed, an article on the BCcampus website says Kendi's book "[challenges] readers to think about their individual role and responsibility in contributing to just and equitable societies."
Adeleye, an associate faculty in Royal Roads University's School of Communication and Culture who also teaches in the School of Humanitarian Studies and the Faculty of Management, and is a BCcampus learning and teaching advisor, says the Book Club Hub looks at the core differences between being non-racist and anti-racist.
"It's easy to adopt a non-racist approach without being proactive," he says. "It doesn't take any actions to be non-racist. But to be anti-racist is to actually be proactive, it's to be engaged, it's to be mindful and continually reflect how my actions or society's systems are perpetuating things that cause some sort of deprivation to any particular group."
It also requires moving from "rebuttal to reflection."
"What is my role? Where am I in this web of activity? And what can I do? For someone who's in education… am I making space for other voices to share? Am I looking for narratives that haven't been told before?" he says, noting the facilitation guide included both reflective questions and personal activities to help readers deeply contemplate these questions.
Key to asking these questions and the Hub dialogue around the Kendi book, Adeleye says, is the concept that Indigenous lawyer and advocate Willie Ermine calls "ethical space."
That requires humility and humanity, discussions that start not from differences, prejudices or preconceptions, but from the common experience of being humans who want to learn.
"That is where the true interaction and understanding happen," Adeleye says. "If we can continue to do that, these conversations on whatever contentious topic will be a lot easier and more effective as well."
He says these dialogues are needed now more than ever, especially in the context of the recent trucker protests in Canada, where racist flags and symbols were displayed by some participants.
"This is the reality for a lot of racialized people," he says. "You've got to ask yourself, is this my coworker? Is this how they feel about me, too? What's going on here?"
Adeleye says having these conversations in Canada is crucial because "racism is seen as America's issue; whereas, reconciliation is Canada's problem, but the two are interlinked."
"We think we're better off than our neighbours to the south but we still have a way to go. We still have a way to go, for sure."
Making a statement
At the end of the final synchronous session of last fall's Book Club Hub, participants collaborated in one of the facilitation guide's activities to create an anti-racism statement. It includes acknowledging that racism exists, commits to taking action on the policy level and making space and time for collaborating in anti-racist working groups.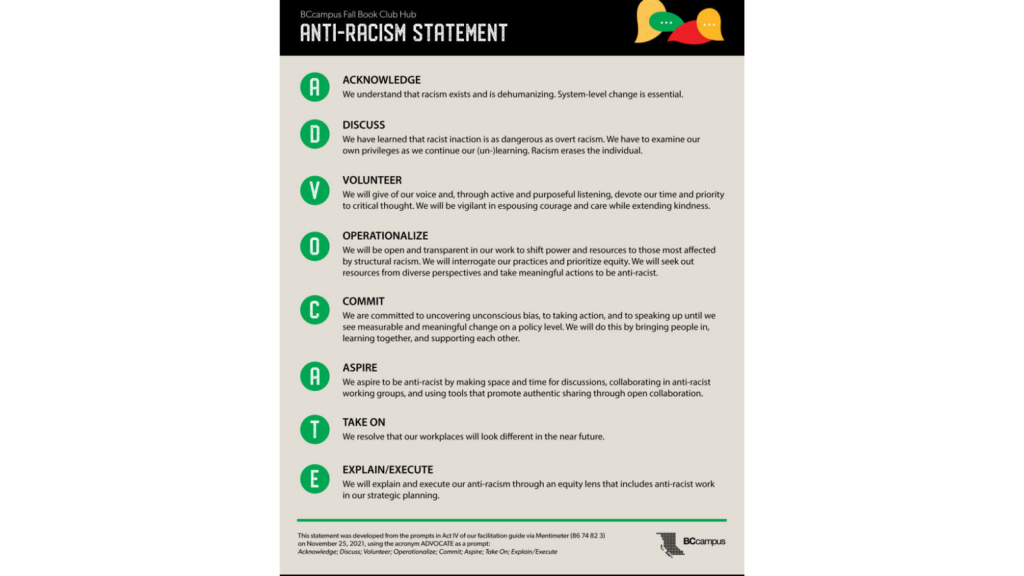 Canada marks Black History Month in February. You can visit our Black History Month webpage for more stories about Black people in our community, to learn about upcoming events and discussions, and to find cultural and educational resources put together by our Royal Roads community.