Related program area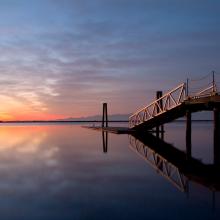 I have become more confident and efficient, with refined research and writing skills.
"I was introduced to the Bachelor of Arts in Interdisciplinary Studies program at Royal Roads University through my colleagues in higher education, where many work and study simultaneously. I was particularly curious as to how the online component would unfold. For me, the experience was incredible. I was able to build my own program through the Interdisciplinary Studies stream; the courses are well written, challenging and completely worth the investment. Even though I completed the program entirely online, I made friends with other students and felt connected to my faculty.
The RRU staff and faculty were always there to support me and made this experience memorable. Since completing my degree, I have been accepted to my Master's program and this has changed my life considerably. Without the support, guidance and encouragement from RRU, this would not have been possible. If you are looking to begin a journey that is realistic, with courses that are meaningful, current and challenging, then RRU is for you."