Share online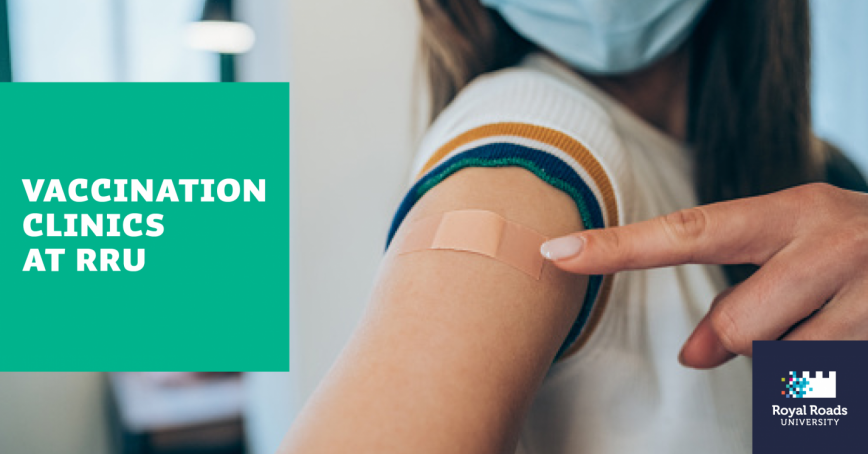 -
Timezone: PDT
On-Campus event
In person
2005 Sooke Road
Victoria BC V9B 5Y2
Canada
Students, staff, faculty and everyone in the community can get vaccinated at three on-campus clinics at Royal Roads University this September.
The RRU vaccination clinics are open to anyone born in 2009 or earlier who needs a first or second dose.
The clinics are in partnership with Island Health and are part of Royal Roads' plan to help ensure a safe return to campus. You do not need to make an appointment. Please bring along your personal health number (PHN) if you have one. If you do not have a PHN, call ImmsBC at 1-833-838-2323 (7 a.m. to 7 p.m., seven days a week) and a PHN will be created for you. If you are unable to make the call prior to the clinic, just show up and Island Health staff will help you.
Dates, times and location
Wednesday, Sept. 8 from 10 a.m. to 3 p.m.
Wednesday, Sept. 15 from 10 a.m. to 3 p.m.
Wednesday, Sept. 22 from 10 a.m. to 3 p.m.
All clinics will be held in the Dogwood Auditorium. View a PDF of the campus map.
Parking
Parking is available across the road from the Dogwood Auditorium at the Sherman Jen Building.
Accessibility information
Dogwood Auditorium is fully accessible and has an elevator. Staff will be happy to direct you. Accessible parking stalls are available across the road via a crosswalk. A gender-neutral bathroom is available. People can use any washroom that best fits their gender expression or identity.
Receive your first dose outside of BC?
If you received your first dose outside of BC, make sure you submit your immunization record before you come for your second shot.
Not going to be on campus?
No matter where you are in the world, we encourage you to get vaccinated at a clinic near you. In BC you can register here. All clinics are open to walk-ins throughout the Island Health region.
More information
Read more about the additional measures Royal Roads is taking to help protect our community and ensure a successful return to campus. Find answers to your questions on the RRU COVID-19 information and updates page.
Wear your heart under your sleeve. Get fully vaccinated.
Getting vaccinated is the number one thing you can do to keep you, your loved ones and everyone at Royal Roads safe.