Share online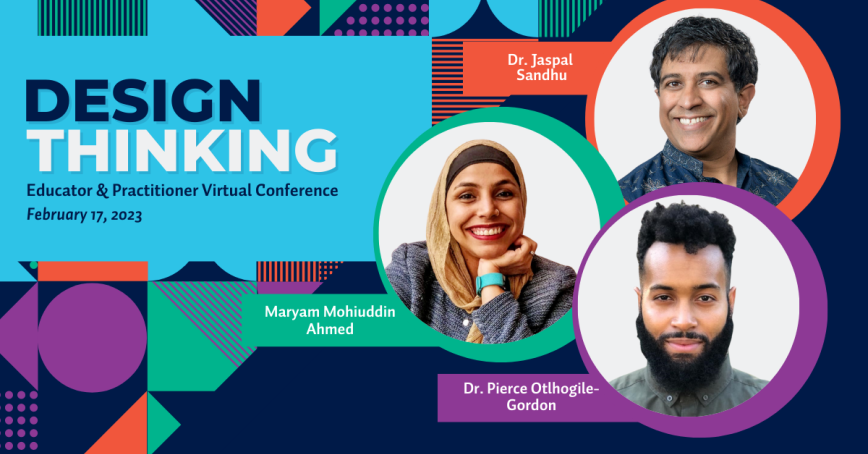 -
Timezone: PST
Virtual event
Online
Join design thinking lovers, skeptics, revolutionaries and curious bystanders for the Royal Roads Design Thinking Educator and Practitioner Conference, happening February 16 to 17. The virtual one-day event (preceded by a pre-conference plenary) is a place for those who teach Design Thinking — whether in the classroom or the workplace — to come together in a learning community.
The conference includes keynote addresses, networking opportunities and participant-led sessions. All sessions should encourage interaction, collaboration and spark further dialogue.
Keynote speakers
Maryam Mohiuddin Ahmed

, a lawyer and social entrepreneur, co-founded the 

Social Innovation Lab

 in South Asia, and is a Senior Fellow at Social Innovation Canada. 

Dr. Pierce Otlhogile-Gordon

 is the Director of the Equity Innovation studio at 

Think Rubix

, a Black-led social innovation consultancy; he is applying innovation-based evaluation approaches to universities and parastatals in Botswana. 

Dr. Jaspal Sandhu

 is the Executive VP at 

Hopelab

, a social innovation lab for youth mental health; he also teaches art and design at the UC Berkeley School of Public Health

. 
Conference format 
This one-day virtual conference runs from 8 a.m. to 5:30 p.m. (PDT) on Friday, February 17, with a pre-conference plenary on Thursday, February 16 from 4:30 to 6 p.m.
Registration fee
$150 per attendee/presenter
$100 student/RRU alum
Finances should not be a barrier to learning, sharing and social innovation. If you are unable to attend due to economic constraints, use the code SCHOL23 to register.
Design Thinking for More Equitable Futures: A Panel Discussion with Three Social Innovators
You are also invited to attend the free, virtual public pre-conference event February 1 from 9 to 10 a .m. PST. In this panel discussion, three social innovators will provide practical advice to those who hope to engage in design thinking work and ask broader questions about design thinking, power, and equity. This session will be facilitated by Dr. Amy Zidulka.