Diversity, Democracy and Daring Leadership
Featured
Share online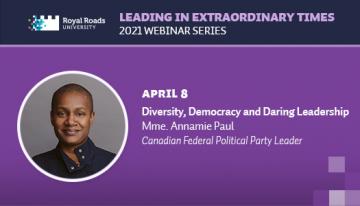 Leading in Extraordinary Times: 2021 Webinar Series
Thanks to everyone who joined us on April 8th for our webinar featuring Mme. Annamie Paul, recently elected leader of a Canadian federal political party, in conversation with RRU President Phillip Steenkamp and students from the MA in Leadership program. In this session moderated by Associate Faculty member Rebeccah Nelems, Mme. Paul responded to questions from students and alumni from the School of Leadership Studies, sharing her perspective on the values of diversity, democracy and daring leadership. We extend our deep gratitude to all involved for making this event possible.
To access the recording, click here. A summary of the Q&A portion of this webinar will be added to the blog once we receive Mme. Paul's written response to questions that weren't addressed live on April 8, 2021.
For more information on the MA in Leadership program, please reach out to us via email.
PREVIOUS WEBINARS...
Our webinar series is free and open to the public. These extraordinary times are calling for our leadership and participants are welcome and encouraged to share the recording link and resources with others. For access to recordings of previous RRU webinar sessions, check out our webinars on-demand.