Business report written by Navarro is released by ABAC
Featured
Share online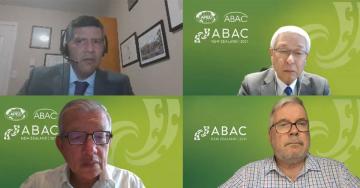 The most recent research project completed by Juan Navarro, who is an associate faculty in the school of business, has been released on the website of the APEC Business Advisory Council (ABAC). Navarro's report is titled "FTAAP Investment Policy" and it was commended to him aiming to identify the issues and challenges which COVID-19 pandemic impacted the global value chain (GVCs), and to provide strategic recommendations to enhance resilience of GVCs in the context of cross-border investment. 
Navarro' study was prepared from a business perspective and it includes a comparative analysis on investment chapters of state-of-the-art free trade agreements namely the Comprehensive and Progressive Agreement for Trans-Pacific Partnership (CPTPP) and the Regional Comprehensive Economic Partnership (RCEP). In addition, because of the relevance that the European Union-China Comprehensive Agreement on Investment (CAI) could represent for supply chain networks in the Asia Pacific and beyond, the report also includes the CAI draft text in the comparative analysis.
Navarro presented virtually his report to the business leaders from Asia-Pacific economies who composed this international organization some weeks ago where he shared his comparative analysis and recommendations on how the investment environment could be improved in order to create resilience in supply chains. It must be noted, Navarro's report was endorsed after submission by ABAC members and sent for public policy consideration to Mr. Vangelis Vitalis who is the Senior Officials' Meeting (SOM) chair for APEC 2021 and Deputy Secretary at the Ministry of Foreign Affairs and Trade of the New Zealand's government.
Policy recommendations proposed by Navarro in this report state that under the current crisis, investment liberalization could have a significant impact on the economic recovery from the pandemic. Navarro emphasizes that in order to accelerate economic recovery from Covid-19 and build diverse, flexible and resilient supply chains, governments must join efforts and facilitate investments in the region by simplifying procedures, harmonising investment standards, offering greater transparency on investment rules, opening markets and reducing restrictions, facilitating the link between foreign investors with local companies, sharing experiences and best practices via their Investment Promotion Agencies (IPAs), improving infrastructure required for targeted sectors, reforming as needed FDI policy to create an appropriate business climate, and, overall, guaranteeing investment protection and fair and non-discriminatory actions.
Navarro has been an associate faculty at Royal Roads University since 2017 and he currently coteaches the Political Geography and International Economics course in the Master of Global Management Program. Navarro has been conducting important studies on New Generation Trade and Investment Issues (NGeTI) for ABAC since 2018. ABAC was created by the APEC Economic Leaders in November 1995 to provide advice on the implementation of the Osaka Action Agenda and on other specific business sector priorities, and to respond when the various APEC fora request information about business-related issues or to provide the business perspective on specific areas of cooperation.
If you would like to read the full report, here is the link to access it: https://www2.abaconline.org/assets/FTAAP_Investment_Policy_final.pdf