Related program area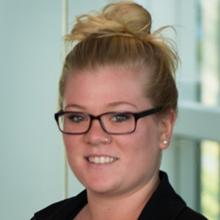 I can't imagine having a successful career without the fundamentals Royal Roads has taught me.
"I knew I wanted to pursue a career in the travel industry and felt Royal Roads University was a perfect choice. Not only would I get to live in an area known for its tourism, the program itself came highly recommended when I spoke with hospitality industry professionals.
Right from the start I felt a part of the community. Everyone there was so supportive and accommodating, it made the whole moving process much easier.
The courses gave me insight into the tourism industry that I wouldn't have got otherwise. The program created opportunities for learning about real-life workplace situations and incorporated key industry knowledge and tips. It reinforced the importance of higher education if you want to become successful in this industry.
Since graduating I've found employment in the craft brewing industry and oversee coordinating events and sponsorships at a local Victoria brewery. I'm constantly shocked at how far I've come, and I know I couldn't have done it without Royal Roads.
To anyone thinking of enrolling in the BA in Global Tourism Management program: Do it and don't look back. You'll get the firsthand knowledge you need to help you succeed."