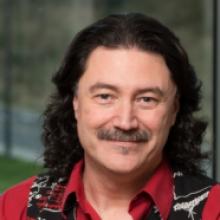 Tony Ruffolo
Manager, Media Support Services
CTET
Summary
Tony is responsible for overseeing the daily operations of presentation technologies in all learning spaces on campus including classrooms, event rooms, meeting rooms, special purpose rooms and breakout rooms. The MSS team provides technical support, services and media deliverables to facilitate the presentation, production and web conferencing needs of the RRU community and external clients including photography, audio and video custom / creative recording and production, web meetings, video conferencing and live streaming. Tony develops business plans for new learning space initiatives and upgrades to existing technology systems. He is responsible for inventory and maintenance of all audio visual equipment on campus.
Experience
Tony has been with Royal Roads for 25 years where he has served as the Staff Elect on the Board of Governors (two-3 year terms), Finance and Audit Committee and the Program and Research Council. He participates in staff activities including volleyball, RRU Music Choir and in events for the United Way and Halloween.
His other fun follies include Victoria Film Festival (Team Lead), Victoria All-Fun Mixed Slo-Pitch Softball League (Executive/Player) and the Allegra Singers Choir (Bass Baritone).
Contact me