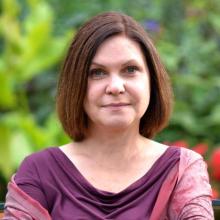 Tabea Berg
Team Coach
Student Services
Tabea (pronunciation) is an instructor and team coach at Royal Roads University.
She has been involved in post-secondary education for more than 14 years as an administrator, course designer, instructor, facilitator and now team coach.
Prior to this, Tabea worked on an executive team in a national publishing company and collaborated on a host of projects with a range of creative professionals as an independent communications and marketing consultant.
As an educator, she has relied on coaching and facilitation to support students in project-based learning. Tabea uses design thinking and other creative problem-solving approaches that rely on team-based processes. She experiences deep joy when students discover and nurture their unique skills and passions.
As someone who is committed to learning and growth, Tabea is currently working on her Doctor of Business Administration. Her research project is focused on discovering more about how individuals and teams who are learning design thinking experience the process.
Tabea enjoys the outdoors, cooking, performing arts and a wide range of other creative pursuits.
Contact