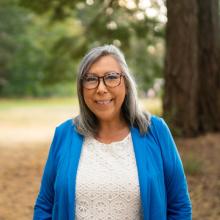 Shauneen Pete
Chair, Emerging Indigenous Scholars
College of Interdisciplinary Studies
Dr. Shauneen Pete is from Little Pine First Nation in Treaty 6 Territory. She graduated from the Indian Teacher Education program at the University of Saskatchewan, where she earned a master's degree in educational administration. 
Shauneen Pete also holds a PhD from the Centre for the Study of Higher Education at the University of Arizona.
She has worked as a professor and administrator for more than 20 years and has provided leadership toward the Indigenization and decolonization of Canada's higher education sector.