Related program area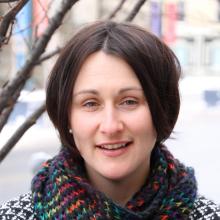 Pursuing this degree reminded me of the importance of focusing on "me."
"I looked at many universities and the Master's in Environment and Management programs at Royal Roads came out on top. The programs are geared for working professionals. I liked the blended learning model, versus a fully correspondence-based option, and the on-campus residency allowed me to fully immerse myself in my program without the distractions of my day-to-day life. 
I learned much from my instructors; they were passionate about their fields of expertise and clearly want their students to succeed. The support and flexibility I received from various parties at RRU made me feel the university truly wants to provide students with the tools and conditions they need. I enjoyed the on-campus portion of the program and found the support of a cohort invaluable, both during residency and afterwards while completing the online courses. 
As an adult, you can get caught up in all of your responsibilities to family, friends and work, and it is easy to lose track of nurturing yourself. Pursuing this degree reminded me of the importance of focusing on 'me.'"