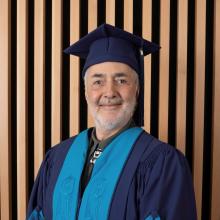 Raffi Cavoukian
Honorary Degree
Spring 2022 Convocation
Raffi Cavoukian is a singer, songwriter, music producer, ecology advocate, entrepreneur, author and, above all else, children's champion. His concerts and recordings have delighted millions of children and adults since the 1970s.
Known by his first name alone, Raffi was a pioneer in quality recordings for children on his independent label, Troubadour. For millions of fans, Raffi's music was the soundtrack of their childhoods, and they took to heart his signature song "Baby Beluga" and its underlying love of nature. These "beluga grads" now share his music with their own children. Raffi elevated the standards of children's music recording. Working with multi-instrumentalist and folk music aficionado Ken Whiteley, he made sure his own recordings met the highest standards. His first four albums were engineered by music great Daniel Lanois.
Raffi has been described by the Washington Post and the Toronto Star as "the most popular children's entertainer in the English-speaking world" and "Canada's all-time children's champion." His string of seven gold- and platinum-selling recordings in North America include Singable Songs for the Very Young, Baby Beluga and One Light, One Sun. His music is now streamed in 190 countries.
In 2010 came the Raffi Foundation for Child Honouring—spreading a universal ethic that views honouring children as the best way to create sustainable, peacemaking cultures. His ongoing work focuses on social causes and the global climate emergency, which he addresses through writings and as a speaker. He has received the Order of Canada, the Order of British Columbia, the United Nations Earth Achievement Award and now five honorary degrees.
In a career spanning five decades, Raffi has refused all commercial endorsement offers and has never taken part in advertising to children. He is a passionate supporter of a commercial-free childhood, and in 2006 was awarded the Fred Rogers Integrity Award for this work.
Raffi is active on social media in support of civility, racial harmony and resisting fascism, among other themes. He is a passionate defender of liberty and democracy.